Facebook Three Way: Zuckerberg, Eisenberg and Samberg Network on 'SNL'
It was a night of unique bonding when Jesse Eisenberg, star of "The Social Network," hosted "Saturday Night Live."
As Eisenberg, first-time host, launched into his monologue, he was joined by Mark Zuckerberg, the Facebook co-founder whom he recently portrayed in the Oscar-nominated film. According to the two, they had never met each other.
Cast member Andy Samberg added another "'berg" to the moment and a degree of life imitating art, imitating life. Samberg attempted his own impersonation of Zuckerberg, but ended up leaving the stage with a cry of "Awkward!"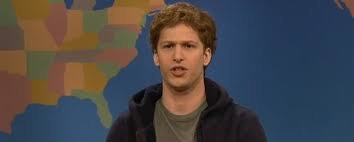 Despite having called "The Social Network" inaccurate, Zuckerberg told Eisenberg that he saw the movie and thought it was "interesting." Eisenberg complimented Zuckerberg by telling him he liked him on "60 Minutes."
While a student at Harvard, Zuckerberg co-founded Facebook in 2004. He was named Time magazine's "Person of the Year" in 2010. "The Social Network" was released in October of 2010 and also stars Andrew Garfield and Justin Timberlake.
When Zuckerberg heard of the movie he responded by saying, "I just wished that nobody made a movie of me while I was still alive."
The movie has received great acclaim, winning Best Picture at the recent Golden Globes; however, several authors who have written about the rise of Facebook have pointed out several inaccuracies regarding the depiction of Zuckerberg.
Author David Kirkpatrick summarizes complaints about the film's embellishment, explaining the movie is only "40% true" and that Zuckerberg is not "snide and sarcastic in a cruel way" which is how he is seen in the movie.
Given that the SNL appearance ended in a high-five, it appears Zuckerberg and Eisenberg have worked beyond any hard feelings and that a new "friending" could be in order.
Share This Story:
Talk About This: