Alfred Hitchcock Hour
The Alfred Hitchcock Hour is host by no one other than the master of suspense himself, Mr. Alfred Hitchcock. Each hour episode is filled with mystery and suspense that always features a surprising and startling twist at the end. Every episode starts with Alfred Hitchcock entering the studio while Charles Gounod's Funeral March for a Marionette plays in the background. After saying good eve-a-ning to the television audience, Mr. Hitchcock gives a small monologue about the episode that is being shown. Right before a commercial break he will lightly make fun of the sponsor and directly after the commercial the episode will begin.
Most of the episodes of The Alfred Hitchcock Hour are the original writings of Mr. Hitchcock himself. Occasionally though some of the episodes were adapted from the writings of famous authors including Ellery Queen, William Link, H.G. Wells and Ray Bradbury. Many of the episodes were even directed by Hitchcock himself but some episodes were directed by Sydney Pollock and William Friedkin.
The ending of the show once more features Alfred Hitchcock but this time it is not to make light of the sponsors. Mr. Hitchcock believed that it was a necessary gesture to morality to reassure the audience that the bad guy or opposing force had been brought to justice.
There were over 770 guest stars that have appeared in various episodes of the Alfred Hitchcock Hour. Such famous actors included Ed Asner, William Shatner, Lee Majors and Dick Van Dyke. Just as many famous actresses can also be seen such as Angie Dickinson, Jayne Mansfield, Joanne Woodward and even his own daughter Patricia Hitchcock appeared in episodes.
Many of the unique and suspenseful episodes also found their way onto the red carpet. Both The Case of Mr. Pelham and Lamb to Slaughter which were directed by Mr. Hitchcock himself were nominated for Emmy Awards. Director Robert Stevens won an Emmy Award for the episode The Glass Eye in 1957 and writer James Bridges won an Edgar Award for An Unlocked Window in 1966. One of the most famous episodes though is The Sorcerer's Apprentice. The sponsor for NBC believed that that the gory ending was too extreme for television but it was later aired in syndication.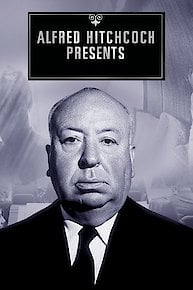 Alfred Hitchcock Hour Full Episode Guide
An injured criminal gets a sympathetic nurse to help him escape from the hospital.

Episode

27

-

The Second Wife

A newlywed wife comes to believe that hubby killed his first wife and is planning to do the same to her.

Episode

26

-

The Monkey's Paw - A Retelling

Episode

25

-

The World's Oldest Motive

A philandering hubby wants to be with his galpal permanently and a stranger says he can arrange that.

Episode

24

-

Power of Attorney

A con man fleeces women and finds hell to pay when he fleeces the wrong one.

Episode

23

-

Completely Foolproof

A wife wants to divorce her husband. Hubby wants to get rid of her completely.

Episode

22

-

Thou Still Unravished Bride

A detective fears that his missing fiancee might have fallen prey to a serial killer.

Episode

21

-

The Photographer and the Undertaker

A photographer begins blackmailing an undertaker.

An ambitious actor begins seeing the daughter of a director in order to advance his career.

Episode

19

-

Wally the Beard

A man begins wearing a false beard and ends up getting into trouble.

A cheating wife plots to murder her husband so she can be with one of his employees.

Episode

17

-

An Unlocked Window

Nurses who go to an old mansion to care for a patient keep disappearing.

Episode

16

-

One of the Family

The police description of a child killer fits a woman whom a couple just hired to care for their baby.

Episode

15

-

Thantos Place Hotel

A suicidal man checks into a hotel that caters to people who wish to assume room temperature.

Episode

14

-

The Final Performance

An old vaudevillian plans a comeback while his much younger fiancee plans on leaving him.

Episode

13

-

Where the Woodbine Twineth

A woman's niece claims that "tiny people" have arrived on the scene.

Episode

12

-

The Crimson Witness

A man steals his brother's job, wife, and galpal. The payback could be hell.

Episode

11

-

Consider Her Ways

A young woman awakens in a hospital room to find herself morbidly obese.

Episode

10

-

Memo from Purgatory

On the bad streets of Brooklyn, a young writer joins a gang in order to gather material for a book.

A missionary falsely practices medicine and is assisted in the deception by his wife. Then a younger woman arrives on the scene.

A woman is fed up with her hubby's stinginess so when a strange man appears out of nowhere with a solution to her problem she willingly accepts it.

Episode

7

-

The McGregor Affair

Re-telling of the true story of Scottish body snatchers Burke and Hare who murdered to provide bodies for medical experimentation.

A new hired hand soon puts fear into his employers.

Episode

5

-

See the Monkey Dance

A man sneaking away for a weekend with his mistress enounters a man with eerily similar plans.

Episode

4

-

The Life Work of Juan Diaz

A poverty-stricken man, who is near death, makes a morbid deal with the owner of a local cemetary.

An recently paroled convict is determined to find the loot that was stashed by a former cellmate.

Episode

2

-

Change of Address

Trying to save their marriage, a couple moves into a sinister remote beach house.

Episode

1

-

The Return of Verge Likens

An ole country boy comes to town seeking revenge upon the political boss who killed his pappy in a barroom brawl.
Episode

32

-

Body in the Barn

Bessie Carnby turns detective to find the killer of her husband.

An ex-con amazingly marries the woman whose testimony sent him up the river.

Episode

30

-

Second Verdict

A lawyer gets his client acquitted of a murder charge and then discovers that he was actually guilty.

Episode

29

-

Bed of Roses

A cabbie sees an opportunity for blackmail when a murder occurs at an address where he drove a passenger.

Episode

28

-

Who Needs an Enemy?

An embezzler frames his business partner for his thefts and fakes his own suicide.

Episode

27

-

The Sign of Satan

A horror star becomes involved with a cult of Satanists.

Episode

26

-

Ten Minutes from Now

An insane artist decides to bomb a museum so that he can replace the works of art with his "perfect" forgeries.

Episode

25

-

The Ordeal of Mrs. Snow

A wealthy woman catches onto the machinations of her niece's scheming husband.

Episode

24

-

The Gentleman Caller

A thief hides his loot in the apartment of an elderly woman and has a hard time retrieving the booty.

Episode

23

-

A Matter of Murder

A car thief hits the jackpot when he makes off with a Rolls Royce only to discover that there's a corpse in the trunk.

Episode

22

-

Behind the Locked Door

Episode

21

-

Beast in View

After receiving threatening letters from her brother's former fiancee, who accuses her of breaking up their relationship, a woman decides to strike back.

Episode

20

-

Anyone for Murder?

A psychologist decides to see just how many husbands and wives in unhappy marriages are capable of killing their spouses.

A playwright gets her actor former lover to help her murder her wealthy, elderly husband.

Episode

18

-

Final Escape

A prisoner is determined to bust out of the pen and his hardnosed warden is just as determined to keep him behind bars.

A hillbilly buys a jar at a carnival that contains a mysterious item. When he brings the object home everyone wonders just what is inside the jar.

Episode

16

-

The Evil of Adelaide Winters

A phony medium, who claims to be able to speak with the dead, receives her own particular comeuppance.

Episode

15

-

Night Caller

A woman receives a series of obscene telephone calls. Needless to say, she comes unglued.

Episode

14

-

Beyond the Sea of Death

A heiress marries a fortune hunter and looks for ways out of her predicament.

Episode

13

-

The Magic Shop

A strange boy's pyschic powers of mind over matter put those around him at risk.

Episode

12

-

Three Wives Too Many

After discovering that hubby has three wives, a woman decides to get rid of the other two.

Episode

11

-

How to Get Rid of Your Wife

A couple become fed up with each other and both try to see that the other assumes room temperature.

Episode

10

-

Goodbye, George

A movie star is paid a visit by her ex-convict hubby whom she thought was dead.

Episode

9

-

The Dividing Wall

A gang pulls off a heist but amongst their loot is a radioactive capsule.

A medical student tries to get his alcoholic roomie off the sauce by making him think he killed a girl while drunk.

Episode

7

-

Starring the Defense

After his son is charged with murder, an actor decides to serve as sonny's defense counsel.

Episode

6

-

Nothing Ever Happens in Linvale

A widow is convinced that her neighbor murdered his wife and tries to convince the local sheriff.

Episode

5

-

Blood Bargain

A husband grows tired of his invalid wife and hires a hit man to bump her off but the hired killer falls in love with his intended victim.

Episode

4

-

You'll Be the Death of Me

A new bride suspects that hubby committed a murder.

Episode

3

-

Terror in Northfield

A religious fanatic seeks to avenge the death of his son.

A woman has a hard choice between her alcoholic husband and her control freak lover.

Episode

1

-

A Home Away from Home

The inmates in an asylum take over the institution by violent means.