Can't Buy Me Love
Can't Buy Me Love is a TV series that is set during the Tang Dynasty of China. The plot of the story evolves around a princess that is rich, but it is difficult for her to marry because she has an unpleasant demeanor. The series expands beyond the troubles of the martial problems of the princess into the issues with other families. Another family, the Kam Family, is a large manufacturer of gold. When the empire runs into problems one of the sons from this empire has to marry this Princess. A further plot develops after this union is sealed.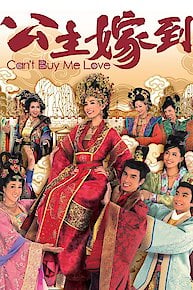 Can't Buy Me Love Full Episode Guide
The saga of the Kam family comes to a close. The Turk uprising is at hand, and Chiu Yeung and Sz are in the hands of villains.

The Turks are right on the precipice of unleashing their long-percolating plan, but first they sacrifice the Kam family.

Yau Wai can't keep his heritage a secret, but even he doesn't know the complete truth.

Sz and Dor Shau can't get on the same page, and a terrible plot to bring down the Tan dynasty is partially revealed.

Dor Shau and Sz must team up to root out Lady Wai's plot, and figure out their own relationship. When Sz's 'man with the white horse' shows up, things get more complicated.

Lady Wai slowly tries to get rid of all of those who know her secret, including Sz.

Ngan Ping makes a strong case to be Yau Wai's wife, despite the ominous fortune-telling.

A verdict is reached in the assassination case, and life after it is forever altered. For the Kam family, this means a familiar face will take the front stage.

Ngan Ping pursues the assassin, while Chiu Yeung sits in jail. The Kam family tries to figure out how to lessen their own implication, while remaing supportive.

Princess Chiu Yeung is accused of hiring the assassin that crashed Madam Wei's tea party.

Yau Wai and Ngan Ping contemplate a romantic partnership that can get them both what they want.

Yau Wai and Ngan Ping contemplate a romantic partnership that can get them both what they want.

Dor Fook tries to recover from his shaky business deal. The rest of the Kams try to stop the family from spiraling out of control.

Shau moves on, and focuses on Kam's Gold. This is good news to everyone but Dor Fook.

Shau and Sz struggle with their romantic tensions. The Princess searches for her enemy.

Yan Chi is kidnapped, and the Kams are asked to help rescue her.

Princess Wing Ho is stripped of her essence, and Dor Luk is partially vindicated.

Kam Dor Luk, riding high off his self-discovery, is about to walk into a trap.

The prince consorts have had enough, and put their princess wives on trial.

Stunning allegations against Kam's Gold forces the Kams to play detective.

The Kams make do with their lots in life.

With traditional divorce looking unlikely, the Kams come up with alternatives.

The Kams prepare for their fall from royalty.

Ngan Ping's plan to find a husband backfires in a big way.

Dor Luk stumbles upon his mystery dragonfly lady.

A new gold shop threatens Kam's Gold while Chiu Yeng tries to endear herself to her sisters.

The Kams try to mend the fences with Chiu Yeung

Dor Shau must defend his kung fu ability to Chiu Yeung

Dor Luk brings Chiu Yeung to celebrate Mid-Autumn.

Chiu Yeung and Dor Luk make wedding arrangements.

Dor Luk meets Chiu Yeung under auspicious circumstances.