Celebrity Apprentice
NBC's Celebrity Apprentice presents a variety of celebrities from movies, TV, sports and even politics to compete for charity dollars and to be hired by business magnate Donald Trump. The series premiered in 2008 as a revised version of The Apprentice, which Trump also hosted. Instead of trying to win a job with the Trump Organization, the 14 to 18 celebrities want to raise the most money for a charity of their choice.
The show places the stars into two competing teams, which complete tasks such as selling ice cream on the New York City streets or creating an ad campaign for a product or organization. The teams have the feedback of Trump's advisors during the task, such as his children Ivanka and Donald Jr., or previous Apprentice contestants. The celebrities can earn money for their charities by winning weekly tasks as the leader, or project manager. The losing team has the unpleasant of task of selecting the underperformers on their team and then choosing two or three contestants to face Trump and his two advisors in the boardroom. Each episode ends with Trump saying, You're fired to the celebrity exiting the competition. The celebrity ranks shrink each week until two final contestants battle it out for the final task, with the help of some of their former teammates. Past winners of the show that include journalist Piers Morgan, comedian Joan Rivers, rock star Bret Michaels, country singer John Rich and talk show host Arsenio Hall.
The show has remained a highly rated program throughout its run. The audience gets a behind-the-scenes look at stars outside of their public personas with lots of bickering, flubs and strange behavior. Each season provides a new slate of familiar, if not quite as famous, public figures out of their element. Some of the wide variety of celebrities on past shows include one-time teen idol David Cassidy, comedian Andrew Dice Clay, impeached Illinois Governor Rod Blagojevich, NBA's Dennis Rodman, Kiss' Gene Simmons, Olympic gold medalist Nadia Comaneci, reality TV star Sharon Osbourne, and pop singer Cindy Lauper. The long hours and large egos often lead to feuds and fights among the cast, which provides the most entertaining moments on the show.
The show continues to earn high ratings and remain on the pop culture radar. NBC has already renewed the series for a sixth installment, which will premiere in January 2013.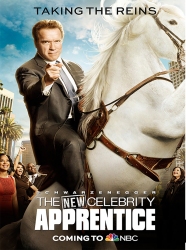 Celebrity Apprentice Full Episode Guide
Episode

7

-

I Don't Have Time for Anyone's Ego Ex...

Matt and Boy George go head-to-head on the season finale.

The final four celebs create presentations for Jessica Alba's Honest Company.

Episode

5

-

Scissors And Some Creativity

Episode

4

-

Candy For A Billionaire

The celebrity contestants are posed with creating a marketing campaign for Kawaski motorcycles and aren't afraid of pushing boundaries. Moo.la founder and CEO, Gemma Godfrey, assists celebrity attorney Patrick Knapp Schwarzenegger in overseeing the celebrities campaigns. As one team approached this task with humor, the other team seemed to take gender roles seriously - maybe too seriously. In the second episode the teams are shaken up and it's no longer ladies versus gentlemen. They are presented with creating a new See's Candy for none other than world famous chocoholic Buffett. Two representatives from each team are flown to Omaha, Neb., to present the candy to Buffett in person. Preparation is key in this task as one team fails to do their homework.

Episode

3

-

Fire Up That Chopper

This week the contestants must create a live health segment showcasing Welch's grape juice while healthy-lifestyle crusader and James Beard award-winning chef Rocco DiSpirito and prominent entertainment attorney Patrick Knapp Schwarzenegger keep a watchful eye as advisors to boardroom boss Arnold Schwarzenegger. While the teams go all out trying to make entertaining and informative segments, one player learns the hard way how important it is to fight to stay in the competition. Later, digital influencer Justine "iJustine" Ezarik and Knapp Schwarzenegger serve as advisors to the boss when the teams are tasked with producing and editing viral videos for a new product from King's Hawaiian. One team clashes over creative while a player on the opposing side struggles to navigate disagreements among very opinionated teammates, resulting in a surprisingly emotional boardroom showdown.

Episode

2

-

Your Smile's Gonna Knock Them Out

The celebrity contestants must dazzle boss Arnold Schwarzenegger and his two advisors, Tyra Banks and Patrick Knapp Schwarzenegger, with their creativity when tasked with producing an original song and video for Trident.

Episode

1

-

In Here You Call Me Governor

Twice-elected California governor, successful businessman and global movie superstar Arnold Schwarzenegger takes control of the boardroom as "The Celebrity Apprentice" moves from New York to Los Angeles. Sixteen celebrities from television, film, music and sports come together to compete for their favorite charities: Laila Ali, Brook Burke-Charvet, Eric Dickerson, Boy George, Matt Iseman, Carrie Keagan, Carson Kressley, Lisa Leslie, Jon Lovitz, Vince Neil, Nicole "Snooki" Polizzi, Kyle Richards, Chael Sonnen, Porsha Williams, Ricky Williams and Carnie Wilson. After being divided into two teams, men vs. women, the celebrity contestants get their first task from their new boss and his business advisors, Tyra Banks - supermodel, producer, accomplished businesswoman and CEO of the Tyra Banks Company - and Schwarzenegger's nephew, prominent entertainment attorney Patrick Knapp Schwarzenegger. Each team has to create a 10-minute TYRA Beauty experience, showing how fun, fast and fierce the make-up products are before heading to the boardroom to hear which team won, which team lost and who from the losing team will be the first one heading home.
Episode

9

-

Live Finale: A New Celebrity Apprenti...

The finalists work to put the finishing touches on a star-studded red carpet event, where they will present the commercial they created for Universal Orlando Resort. Which finalist will have the better commercial? Which finalist will have the better presentation? Who will raise more money? In a live Boardroom showdown, Donald Trump will make his final decision and choose the seventh "Celebrity Apprentice."

Episode

8

-

Universal Wizards

Mr. Trump sends the two celebrity finalists to Orlando, Florida to take on their biggest task yet -create a commercial for Universal Orlando Resort and sell resort vacation packages to raise money for their charity. Back in New York, the finalists must present their commercial to guests at a star-studded red carpet event. With six fired celebrities returning to help them, the finalists compete for the ultimate prize: $250,000 for their charity and the title of The Celebrity Apprentice.

Episode

7

-

Top Feuds, Firings and Fails

This special episode will feature some of the best moments in "The Apprentice" history, including the best hirings and firings, top feuds and biggest mistakes.

Episode

6

-

Who Stole My Phone?

In the first task, each team must create a "photo bomb" and hashtag campaign for King's Hawaiian. An incident involving two celebrities ends in an explosive Boardroom showdown. Boardroom Advisors: Donald Trump Jr. and Eric Trump. In the second hour, the teams must write and produce a 30-second jingle for Bud Light Lime Ritas flavored beverages. Both Project Managers have to deal with unruly teams, and a heated Boardroom concludes with a shocking decision by Mr. Trump.

Episode

5

-

It's Like a Booze Cruise with Knowled...

Episode

4

-

I Wish I Had a Project Manager

Episode

3

-

A Family Affair

Episode

2

-

Nobody Out Thinks Donald Trump

Episode

1

-

May the Gods of Good Pies be wih Us

In a special two-hour premiere, Donald Trump tasks sixteen new celebrities to create and sell pies in a fundraising competition for charity. While the men's Project Manager focuses on fundraising and neglects the team's pie-making needs, some of the women's team complains about their Project Manager to Boardroom Advisor Piers Morgan. One team will win it all, and in the end, the first celebrity will hear Trump's feared words: "You're Fired!"
Celebrity Apprentice News
'Apprentice' Contestant Backs Up Trump Sexual Assault Claim with Documents
Summer Zervos says she has the receipts.
Trump Cabinet Wife Directs and Stars in New B Movie
Louise Linton's directorial debut is filled with sex and violence.
Donald Trump Used Lame Pick-Up Line on Brooke Shields
At least he asked first.
Piers Morgan Slammed for Mariah Carey Interview About Las Vegas Massacre
The incendiary interviewer sparked outrage with an insensitive segment on 'Good Morning Britain.'
'Celebrity Apprentice' Not Coming Back to NBC
Arnold Schwarzenegger says it's because of the unpopularity of the show's producer, Donald Trump.
Trump Has Made Some TV Great Again
The controversial president has boosted some TV series.
Schwarzenegger Trolls Trump with New Video
Arnold takes the opportunity to jab Trump over his falling approval ratings and his kid-unfriendly budget proposals.
Schwarzenegger Leaves 'Apprentice,' Blames Trump
The series' new host is quitting, and the show's future looks uncertain.
View More News