Entertainment Tonight
Entertainment Tonight brings you the updates on new stars, older familiar stars and news about the entertainment world. Entertainment Tonight is also known as ET. The program provides you with outstanding coverage from all over the globe. It is a syndicated program by CBS. The first episode aired was aired September 14, 1981. So the 2011-2012 season was the 30th year in broadcasting. The program usually airs one half hour daily during the week with a one hour ET weekend program that recaps the week's news. If you wonder what is going on in the television and movie industry, this is the program to check. From gossip to news features, you will hear it first!
There are segments consisting of different areas of interest. The fashion segment let's you in on who wore what, was it a hit or a miss outfit? The awards segment brings Red Carpet award updates, as well as flashbacks on past recipients of awards. The music segment brings you top stories on today's music styles. Which artist is hot right now and who is listening to them. The movie segment often let's you know who is quitting the biz and who is up and coming. Each of these segments deliver a mass quantity of information pertaining to the categories they represent. All categories allow for several pictures and videos as well.
With today's technology, you don't need to wait until Entertainment Tonight is aired on your television, it is now available online, through your computer, your phone, and certain brands of tablets.
Entertainment Tonight has numerous reporters who bring special correspondence to ongoing news updates. These at times can be celebrities. Over the years ET has proven to have integrity, which allows them incredible access to otherwise guarded information. Reporters catch celebs on camera whether they are going into the hospital or coming out of the courtroom. From weddings, to funerals and romps in the park, Entertainment Tonight is there.
Entertainment Tonight has grown to be the most effective way to feel connected with the entertainment industry.
Monday, Tuesday, Wednesday, Thursday, Friday 6:00 PM et/pt on CBS

8 Seasons,

594

Episodes

June 30, 2015

/

10

Cast:

Nancy O'Dell, Kevin Frazier, Mark Steines, Nischelle Turner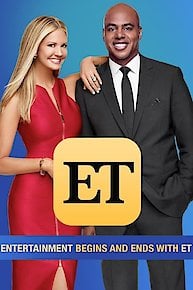 Entertainment Tonight Full Episode Guide
Entertainment Tonight News