Fatal Attraction
Fatal Attraction is a crime/reality series that documents what happens when romantic passion drives people to commit horrible crimes. The show is based on true stories and features live-action reenactments of the events. The show also includes interviews as well as footage from the interrogations. Each episode starts with a reenactment of the crime, then moves backward to tell the whole story. Each weekly episode is 60 minutes long.
One of the episodes from the first season tells the story of a preacher who is accused of cheating on his wife. Another episode features a fairy-tale in the making, until jealousy causes the romance to come to an untimely end. The latest episode features a pastor who comes up with an elaborate conspiracy to cover up his wife's murder.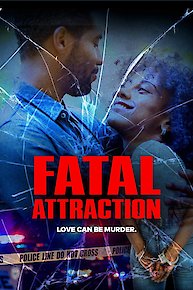 Fatal Attraction Full Episode Guide
Episode

14

-

Terry Camper Metered Murder

Episode

13

-

Jarring Jealousy

Episode

12

-

Big Rig Rage

Latonya Bowman and Jamal Rogers were one month shy of welcoming their baby boy into the world when the unthinkable happened. Latonya is kidnapped, set on fire, shot, and left for dead. As Latonya fights to save her life and the life of her unborn son, detectives try to figure out who would want to harm her – and in such a violent way. As this mystery begins to unravel they uncover a selfish murder plot that sends shockwaves throughout the Detroit community – and the entire country.

Episode

11

-

Dangerous Addiction

When local actress Pasinetta Prince met charmer, Patrick Bauldwin, he fanned her flame and together they formed the perfect partnership. But the curtain dropped on their love affair when Pasinetta was found strangled in her own home. And as investigators wade through the cast of suspects, they soon uncover a sordid secret that will rattle the community to its core.

Episode

9

-

Heart of Darkness

When Wynetta Wright met hard-nosed cop Richmond Phillips, sparks flew right away and soon they were embroiled in a heated romance. Nine months later, Wynetta had given birth to their daughter, Jaylin. But nearly a year later, their hopes of happiness are soon dashed as both Wynetta and baby Jaylin unexpectedly disappear. As investigators delve deeper into Wynetta and Jaylin's disappearance they find themselves suddenly caught in a sordid web of love and lust, bringing them face to face with an evil that can't be named.

Episode

8

-

AWOL Abduction

When Kimberly Parker said "I do" to, Elihue Parker, he promised her the world. But their dreams for a bright future are dashed when Elihue turns up missing. As investigators delve deeper, they uncover a twisted ring of greed and deception that will leave them face to face with pure evil.

Episode

7

-

Mortal Matrimony

Episode

6

-

The Boy is Mine

Episode

5

-

Deadly Jealousy

Jennifer's romance ends suddenly.

Episode

4

-

Dance of Death

A beautiful showgirl looking for love suddenly vanishes without a trace.

Episode

3

-

Deadly Secret

Yamisha Thomas and Sylvester Davis had chemistry that couldn't be tamed. Sparks flew in the bedroom, and Sylvester was a great father figure for...

Episode

2

-

A Sinister Affair

The story of a couple who had chemistry that couldn't be tamed.

Episode

1

-

Feast of the Flesh

When Manny and Exondia first met, sparks immediately began to fly. It wasn't long before the couple's sensual romance blossomed into something...
Episode

19

-

Lethal Liaison

Cicely Bolden and Larry Dunn had just begun their sexually charged romance. Cicely had finally found the man she was looking for and Larry was beyond happy with her.

Episode

18

-

California Cold Case

When Marie Singleton met Andre Jackson, they instantly connected.

Episode

17

-

Toxic Romance

Was it destiny when Reginald Daye met the gorgeous Crystal Mangum?

Eddy Curry and Nova Henry have a relationship that becomes difficult as Eddy is drafted to the NBA and she has two of his children.

Episode

15

-

Deadly Rampage

A couple embark on a crime spree and believe they are the next Bonnie and Clyde.

Episode

14

-

Justin Cosby

Brittany Smith and Jabrai Copney were a young collegiate power-couple who had the world at their fingertips. Unfortunately, their textbook romance was cut short.

Episode

12

-

If I Can't Have You

Examining the bizarre case of an Ohio man who committed suicide in 2011 after releasing his menagerie of exotic animals, including lions, tigers and bears, dozens of which were killed by authorities.

Episode

11

-

Horror on the Highway

A woman's tragic killing in a Maryland field and a report of a carjacker causes police to commence a manhunt. As the investigation goes underway, evidence suggests that the killer may be closer to them than first anticipated.

Episode

10

-

Raging Revenge

A mother is stabbed to death in her bedroom.

Episode

9

-

Budding Bloodshed

A tragic death between two lovers.

Episode

8

-

Sins & Secrets

Surprising details surface years after a pastor's wife dies during childbirth.

Episode

7

-

Hell Hath No Fury

A woman's husband is shot; allegations of infidelity.

Episode

6

-

Tragic Rebound

A beautiful young songstress vanishes.

Episode

5

-

Murder in Niagara

A young man is shot outside his house.

Episode

4

-

The Sinner and the Saint

Pastor Tracy Burleson and his wife Paulette's world is shattered when Paulette is brutally murdered outside their Houston home. As police investigate, they uncover a sinful conspiracy of biblical proportions.

Episode

3

-

Collegiate Killing

Examining the murder of a grad student.

Episode

2

-

The Devil Beside Me

On the outside, this picture perfect couple had everything...

Episode

1

-

Ambushed by Love

A love triangle turns deadly in the second season premiere.