Hateful But Once Again
Hateful But Once Again is a series that depicts the many sides of love and betrayal. This Korean television show focuses on two generations of the same family as they struggle to find or hold onto romance while also furthering their careers and futures. Han Myung In is a successful and powerful business woman. Unfortunately, she seems to be losing control of her family. She has recently found out that her husband has been having an affair with one of the country's top actresses. The actress, Eun Hye Jung, is truly in love with Myung In's husband, Lee Jeong Hoon. When Jeong Hoon decides to go back to his wife, Hye Jung is hurt and furious. She will not give up her love for Jeong Hoon without a fight.
Meanwhile, Myung In's son, Lee Min Soo, has been running wild for some time. He has been spending his parents' money recklessly and is known as something of a playboy. He is very impulsive and his actions have been driving his mother crazy. One day, while trying to hide from one of his recent girlfriends, Min Soo runs into a woman named Choi Yoon Hee. Yoon Hee is a normal, down to Earth girl. She is not the kind of woman that Min Soo would go after. Despite this, Min Soo finds himself strangely attracted to Yoon Hee.
When Myung In hears about Yoon Hee, she realizes that Yoon Hee might be the type of girl who can get Min Soo to settle down and stop doing crazy things. In order to get Yoon Hee to participate, though, she offers her a deal. Myung In will put Yoon Hee in a position of great power as long as Yoon Hee follows through with her plan.
1 Season,

24

Episodes

February 4, 2009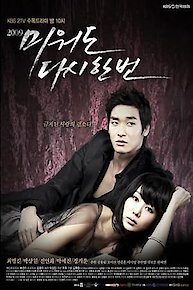 Hateful But Once Again Full Episode Guide
Min Soo finds out the reason why Yoon Hee broke up with him.

Myung In steps down as chairwoman from Myung JIn Group.

Yoon Hee breaks up with Min Soo and runs away.

Min Soo discovers the secret conversations between Yoon Hee and his mother.

Hye Jung finds out the child she lost thirty years ago is actually Choi Yoon Hee.

Min Soo and Yoon Hee elope. Meanwhile, Yoon Hee's uncle tries to blackmail Hye Jung.

Min Soo proposes to Yoon Hee. Myung In faints after finding Kim Yoo Suk left again.

Myung In requests divorce from Jeong Hoon. Meanwhile, Min Soo meets his real father.

Myung In sees her first love, Kim Yoo Suk, at the art studio.

Hye Jung's daughter, Soo Jin, tries to commit suicide.

Yoon Hee finally agrees with Myung In to make Min Soo fall in love with her.

Hye Jung searches and finds out that Myung In's first love is alive.

Hye Jung reveals on live television that her lover of 30 years is Vice Chairman Lee Jeong Hoon.

Hye Jung decides to guest star on Yoon Hee's show. Later, Myung In reveals to Hye Jung and Jeong Hoon that she knows about their love affair.

While looking through Min Soo's mother's room, Yoon Hee, finds a letter and photos of his mother with her first love.

Myung In finally sees Hye Jung together with her husband.

Hye Jung tells Reporter Kwon to write the story about "National Actress, Eun Hye Jung, being in a 30-years relationship with Vice Chairman Lee Jeong Hoon.

Hye Jung threatens to kill herself if Jeong Hoon breaks up with her.

Myung In sets in motion the plan to trap Yoon Hee into marrying her son, Min Soo.

Yoon Hee passes out from drinking and Min Soo takes her home. Meanwhile, Hye Jung plots to get on Myung In's good side.

Myung In meets the actress, Eun Hye Jung, at the Royal Senior Fashion Show.

Myung In destroys Yoon Hee's chance to be a spokesperson for a congressman.

While trying to avoid one of his girlfriends, Lee Min Soo runs into the dressing room that Choi Yoon Hee is in.
If You Like Hateful But Once Again, Then Try...