Highway Patrol
As the name suggests, "Highway Patrol" is a show that is focused on police officers who patrol the highways. Filmed in black and white, this classic program is a realistic action series that consistently features well-written plots. The show also uses an off-screen narrator.
The main star of "Highway Patrol" is Broderick Crawford. His portrayal of police chief Dan Mathews is intense and believeable. With a squadron of highway patrol officers under his command, Mathews is a no-nonsense type of leader who gets things done.
Even though he is the top cop at the highway patrol, Dan Mathews almost never dresses in a police uniform. Normally, he wears a suit and tie with a dress hat. A real hands-on police chief, Dan Mathews often finds himself in the middle of a gunfight or personally apprehending bad guys.
Much of each episode takes place outdoors, often in rural locales. With large expanses of area to cover, the highway patrol officers communicate by two-way radio. Whether he's driving his patrol car or manning the desk at headquarters, Dan Mathews always takes charge.
In many episodes, the highway patrol officers construct roadblocks in an effort to stop criminals who are headed their way. Sometimes the criminals stop and sometimes they don't. Through top notch investigative work done by Mathews and the highway patrol officers, the criminals don't get away for long.
Among the types of crimes that are committed on "Highway Patrol" are bank robberies, assaults, narcotics smuggling, armed robberies, hit and run drivers, kidnappings and stolen car rings. While many of the perpetrators are cunning and ruthless, they are no match for Mr. Mathews and the other highway patrol officers.
"Highway Patrol" was aired on prime time television for four seasons but has remained popular in reruns for many years. More than 150 half-hour episodes were created. At the end of each episode, Broderick Crawford speaks to viewers and urges them to obey traffic laws and drive safely.
4 Seasons,

156

Episodes

October 3, 1960

/

10

Cast:

Broderick Crawford, Art Gilmore, William Boyett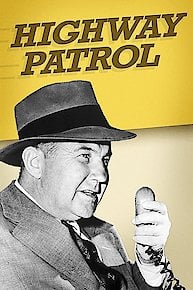 Highway Patrol Full Episode Guide
Episode

39

-

Bank Messenger

A couple pull two robberies in one day but when they attempt a third, Dan gets hot on their trail.

Dan races to the rescue to prevent a pyromaniac from setting a farm ablaze.

Episode

37

-

Detour to Death

Two men and a damsel use a fake detour sign to misdirect motorists to an isolated road where they use a fake police patrol car to stop and rob the drivers.

Three bank robbers gun down a confederate who made off with the loot but when they don't find the money they head for the house of the dead man's wife. Unknown to them, Dan already has the house staked out.

Episode

35

-

Desperate Men

Cornered in a hospital boiler room, two criminals threaten to increase the boiler's pressure and blow the hospital sky high unless they're given free passage.

Episode

34

-

Express Delivery

A thief poses as a kidnapped diamond courier to receive a jewel shipment worth $200,000 at the airport.

Episode

32

-

Women Escapees

Two gun molls, serving a life sentence for murder, escape and kill a driver on the highway. Dan and the Highway Patrol cut off all escape routes but that doesn't stop the two desperate damsels. They hijack a bus and blast through the roadblock.

Caught in the middle of a diner hold-up, Dan persuades the robber to take him as a hostage instead of the owner's wife.

Episode

30

-

Prisoner Exchange Copter

After a sheriff apprehends a fugitive racketeer, one of the racketeer's henchmen kidnaps the wife of the sheriff and demands an exchange of hostages.

Episode

29

-

Killer on the Run

A hood who just ripped off a counterfeiting gang catches a ride with two middle-aged woman with the gang and the Highway Patrol in hot pursuit.

Episode

28

-

Illegal Entry

An alien smuggler smuggles in farm workers from Mexico and then blackmails them by threatening to report their illegal status.

Needing money to finance their cross country journey from New York to California, a couple begins robbing motorists.

Episode

26

-

Cargo Hijack

Dan goes after a husband and wife hijacking team who recently killed a truck driver.

Episode

25

-

Diversion Robbery

Two robbers use a harmless but loud bomb to divert attention from their getaways. Dan Mathews, as usual, is hot on their trail.

A young boy is the only witness to his father's murder by a burglar.

Episode

22

-

The Collector

An ex-convict goes on the lam after accidentally killing a blackmailer.

A man who's bitter at a Highway Patrol officer for sending his brother to prison tries to frame him for a hit and run.

Episode

20

-

Mexican Chase

The Mexican Highway Patrol helps Dan track a car theft ring that alters stolen cars before smuggling them across the border.

A diamond firm employee disappears with a consignment of precious stones but in reality she was kidnapped by the thieves who are in cahoots with a co-worker.

Episode

18

-

Copter Cave-In

Dan takes to the air in a helicopter again to capture an escaped convict who's hiding out in an old gold mine.

Episode

17

-

Narcotics Racket

Two con men, posing as a narcotics agent and dealer, dupe people into believing that their relatives are members of a drug ring. Then they take bribery money to lay off them.

Episode

16

-

Breath of a Child

A sailor who was exposed to spinal meningitis keeps fleeing the police who are after him and his new bride. He thinks they were sent by the bride's father who was opposed to their marriage.

Dan must save the life of a reporter who exposed a protection racket.

Dan, taking a man to prison, tries to prevent the man's co-horts from freeing him.

Episode

13

-

Split Robbery

Dan tries to deduce where two supermarket robbers will strike next.

Episode

12

-

Confidence Game

Dan goes after a con artist who swindled an elderly man out of his life savings thus inducing a fatal heart attack.

Episode

11

-

False Confession

A man confesses to a robbery/murder so that his indigent family can claim the reward but the real killers are soon on his trail after he has a change of heart and escapes from custody.

After racketeer's kill his brother, a man foolishly decides to hunt them down without any help from the police.

Episode

9

-

Deadly Diamonds

Dan tries to prevent three salesmen carrying diamonds from being robbed.

Episode

8

-

Train Robbery

Dan races against time to prevent a train robbery at an isolated railroad station.

Episode

7

-

Portrait of Death

A reclusive artist is found murdered near a mountain resort. It's up to Dan to find the culprit.

Dan Mathews takes to the air in a helicopter to stop a train robbery.

Episode

5

-

Gambling Story

A gambling den owner decides to eliminate the gambling room of a rival by staging a murder there.

Episode

4

-

Transmitter Danger

Two thieves make off with a safe unaware that it's been booby trapped.

Episode

3

-

Family Affair

A woman and her son spring her husband from a courthouse and manage to kill a police officer in the process.

A wounded fugitive hides in a stationary store, taking the owner and her invalid mother hostage.

Episode

1

-

Frightened Witness

A man sets out to silence two witnesses who saw his brother kill the owner of a roadside cafe during a robbery.
A farmer and his neighbor battle each other to collect the $10,000 reward offered on a fugitive who's holed up in a barn.

Dan is under the weather in this episode and no one can figure out the cause of his illness.

Episode

37

-

Double Copter

It's a helicopter duel in the sky as Dan Mathews pursues some convicts who used a stolen helicopter to bust out of the pen.

Episode

36

-

Hostage Officer

Dan pursues two thieves who've taken a Highway Patrol officer hostage.

Larry Bolton decides to become a suicide bomber after being fired from a chemical firm. He steals a truck full of explosives, takes his wife hostage, and head out to blow the city off the map. Only Dan Mathews and a smokin' hot policewoman can prevent tragedy from occurring.

Episode

34

-

Dan's Vacation

When a convict escapes from prison he threatens to kill the judge who sent him up. Informed of the threat, the judge surprisingly refuses police protection or to change his routine.

A man commits a series of robberies dressed as a police officer.

When two brothers get out of prison, one goes straight while the other, a mob torpedo, is ordered to kill his brother for deserting the syndicate.

Episode

30

-

Psycho Killer

Dan uses a policewoman as bait to nab a psycho who meets his victims through "Lonely Hearts" newspaper ads.

Two men carjack a woman but Dan is able to trace them from purchases they made with her credit card.

Episode

28

-

The Truckers

A couple pulls of an ingenious series of robberies involving pharmacy delivery trucks.

Dan tries to rescue an undercover policewoman who's cover was blown from the clutches of the syndicate.

Episode

26

-

Careless Cop

Dan Mathews vows to get the killer of one of his officers who might have died due to his own carelessness.

A woman calls the Highway Patrol after hitting a man with her car but when everyone meets at the accident site the victim is nowhere to be found.

Suzie Haskell can't cry out for help after she's taken hostage by armed robbers who just robbed her father's general store. It seems that Suzie is a deaf mute.

Episode

22

-

Tear Gas Copter

Dan uses tear gas from a helicopter to apprehend three hoods who have taken a farmer's wife hostage.

An ex-convict comes gunning for the man who sent him to prison--Dan Mathews.

Episode

20

-

Lady Bandits

Two young girls stage a series of armed robberies disguised as males. They have the police fooled for a while.

Episode

19

-

Foster Child

Episode

18

-

The Seventh Green

The groundskeeper at an exclusive country club begins sheltering wanted criminals there for a price. Dan stumbles onto the scheme when he goes to the club to play golf with a judge.

A diabetic ex-con is kidnapped to keep him from testifying at a government hearing.

Two robbers carjack a taxi and stage a series of robberies. Dan Mathews then enlists the aid of taxicab drivers to trap the robbers when they strike again.

Episode

15

-

Mother's March

A man carrying $10,000 in charity contributions is mugged in route to the bank. Dan Mathews investigates and discovers that only two people knew the man's route: his wife and a respected local businesswoman.

Dan is on the scene at a diner after a call from a hysterical woman saying she just shot a man in self-defense. But are things really what they seem?

Episode

13

-

Double Death

A man is paroled after serving 13 years for murder only to discover that his supposed victim is still alive. Dan tries to prevent him from committing cold-blooded murder and walking away scot free due to the double jeopardy law.

Dan sets a trap to catch a supermarket robber red-handed.

Episode

11

-

Convicted Innocent

Dan gets a convicted murderer exonerated but the man is bitter from his years in prison and decides to go after the witness whose mistaken testimony got him convicted in the first place.

On a hunting trip, a man kills his partner to gain complete control of their business and tries to pass the act off as an accident. Dan Mathews is suspicious of the story and investigates.

A lab worker panics and flees when he's exposed to some radioactive isotopes.

A sniper begins shooting at cars passing over a section of highway but when Dan investigates he discovers that things aren't as they first seemed.

Episode

6

-

Hostage Family Copter

Episode

5

-

Mistaken Identity

A carpenter is abducted by a hood who mistakes him for a diamond merchant. Dan Mathews then uses a sexy policewoman to lure the hood into a trap.

A safecracker, knowing that the police are watching him, resorts to unusual methods to continue his crime spree but Dan Mathews is out to trap him for good.

Episode

2

-

Efficiency Secretary

The efficient secretary of a ranchers' association is secretly a crook. With the aid of her crop duster boyfriend, she steals $50,000 from her employers. It's up to Dan Mathews to expose this shady lady.

Dan jumps into action when he learns that a jewelry store robber is carrying a deadly drug.