Mork and Mindy
This half hour comedy, which ran from 1978 to 1982 on CBS, can currently be seen on the Hub Network in syndication. The show revolves around the central character Mork, an alien from outer space that is played by Robin Williams, and Mindy, his earthling companion played by Pam Dauber. Mork arrives to Earth in a white dome-shaped space ship and meets Mindy, a young woman who has just broken up with her boyfriend. Mindy, despite noticing Mork's odd behavior such as wearing his suit backwards, befriends and adopts him into her life after he confesses his true identity.
The chemistry between Mork and Mindy contributes to the show's success, but Mork's bizarre nature is what makes the show unpredictable and spontaneous. Viewers might tune in one day to find Mork watering plants with his finger or another to discover a pint-size version of the alien trying to get back to size again.
4 Seasons,

39

Episodes

October 9, 1978

/

10

Cast:

Robin Williams, Pam Dawber, Ralph James, Conrad Janis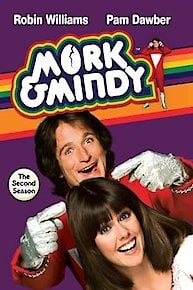 Mork and Mindy Full Episode Guide
Episode

21

-

Gotta Run, Part 3

Mork and Mindy accidentally ride a time warp back into the caveman era when Mork puts on his magic, ruby red time-travel shoes to escape evil Kalnik of Neptune.

Episode

16

-

Mork, Mindy and Mearth Meet MILT

Mork uses Orkan components to assemble a home computer named Milt that is so sophisticated and tyrannical that it decides to hold its creator, Mindy and Mearth as hostages.

Mearth hates his first day of school on planet Ork so much that Mork and Mindy accompany him back to Ork Prep, where Mork's ancient teacher - who looks like a child - is still sternly in charge.

Episode

8

-

Rich Mork, Poor Mork

Mork buys Mearth a fortune in presents to assure his happiness, and when Mindy, fearing a spoiled child, orders that they be returned, their unusual child decides they don't love him anymore.

Episode

5

-

Mama Mork, Papa Mindy

Mindy is dazed at the reality that she and Mork are the parents of Mearth -half-earthling/half-orkan with the body of a 50-year-old and the mind of an infant - and feels left out when Mearth accepts Mork as his mommy.

Episode

4

-

Three the Hard Way

Mork and unsuspecting Mindy hatch a comedy plot that's bigger than both of them when an egg emerges from Mork's navel that grows and grows until it bursts open and out pops their full-grown, middle-aged-looking son (Jonathan Winters).
Episode

22

-

Reflections and Regrets

Mr. Bickley's 50th birthday celebration turns into a crazy exchange of everybody's deepest secrets, but Mindy waits until the group leaves to tell Mork somthing she's wanted to say for years.

Episode

20

-

I Heard It Through the Morkvine

Mork, who doesn't understand why people gossip, reveals some hilarious "inside scoops" when he shows and tells all about his friends while subbing for Mindy as host of a local TV show called "Rumor Has It," on Paramount Television's "Mork and Mindy."

Episode

19

-

Old Muggable Mork

The joyous visit by everyone's favorite, Grandma Cora, turns to gloom when she gets mugged in the park, but Mork turns the dastardly deed into a hilarious caper when he and Grandma join forces to even the score, on "Mork and Mindy."

Episode

18

-

Mork and the Family Reunion (Aka "Ork...

When Mindy eats one of Mork's gourmet delights, she turns into a wacky Orkan herself, sending her family reunion into a rollicking tizzy.

Episode

17

-

Mork and Mindy Meet Rick and Ruby

Mork, lonely in Mindy's absence, sets the stage for amazing comical confusion when he gets the visiting Orkan Elder to clone multiple Mindys.

Episode

16

-

Mork the Swinging Single

Mindy is convinced that she has unleashed the swingingest single ever after she persuades Mork that it would improve their relationship if each began dating new people .

Episode

14

-

Mork Meets Robin Williams

Mork, who has never heard of Robin Williams and scoffs at the idea of resembling him, gets crushed by mobs of fans who think he is the popular comedian, then has a hilarious nose-to-nose encounter with the famous star.

Episode

13

-

There's a New Mork in Town

Mork faces almost unbeatable competition for his job as official Earth observer from his Orkan hero, the suave and charming Xerko, who beams to Earth to challenge Mork to an outrageous contest.

Episode

11

-

Mindy Gets A Job

Mindy, hired by a small TV station, has a disastrous on-camera debut until Mork leaps to a riotous rescue with his far-out Orkan presentation of the evening news, on "Mork and Mindy."

Episode

4

-

Dueling Skates

It's the biggest, funniest roller marathon ever when Mork takes to skates for the first time to race a cheating champion skater down a Rocky Mountain peak into Boulder to save the day care center.

Episode

3

-

Mork in Never-Never Land
If You Like Mork and Mindy, Then Try...