Real Ghosts
Nobody can resist a ghost story that can make your hair stand on end, raise goose bumps on your flesh, or make you afraid of the dark. They reach out from the grave, grabbing onto our imaginations with icy fingers, refusing to let go. They seem to appear from thin air and then vanish with the pounding drum of our heartbeats. We wonder to ourselves if the sightings are real, or if they can even exist. Maybe it's the work of an over active imagination playing tricks on our psyche.
Real Ghosts takes you on a spine-tingling journey where the dead will not rest, as seen through the eyes of ordinary people who have witnessed these apparitions and lived the nightmare. They are real people telling their true stories of unexplainable events.
Each episode tells a story using actors and special effects, and then introduces the actual people who witnessed the paranormal or poltergeist event.
Not only does it give proof positive confirmation that there is life after death, but it also cements those who believe in the power of the soul. Nobody wants to believe that this life is all we have.
Real Ghosts can give comfort to the many sane, well-balanced people who have heard unexplained voices, have seen strange lights, or even thought they saw the image of a long gone loved one. It is also very likely to make skeptics uncomfortable.
Whether you believe or not, Real Ghosts will let you step into the world beyond what we see in our everyday life.
1 Season,

3

Episodes

October 12, 1995

/

10

Cast:

Leonard Nimoy, Jared Rushton, Kent Burden, Sarah Carson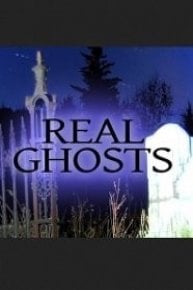 Real Ghosts Full Episode Guide
Stacey Keach introduces us to a happily married couple in California who are suddenly driven to the brink of murder by a horrifying, supernatural force.

Leonard Nimoy takes us to Texas where unseen forces literally scare a construction worker to death. An attorney solves a 100-year-old murder mystery with the help of the victim.

Stacey Keach introduces us to the real ghosts in Kansas where students are running for their lives when a fraternity house becomes a haunted house and one pledge refuses to be denied membership.