Watch The Queen Latifah Show
The Queen Latifah Show is a talk show hosted by the famous actress and former musician Queen Latifah. The show features pop cultural news including celebrity interviews, common human interest topics and musical performances from various popular artist. The show is filmed in front of a live audience in Culver City, California which gives viewers an idea of the fun upon the set.
She has toke time to make a versatile show that spirals into a range of categories. The show has also ventured to the community as Queen Latifah explores the world to give gratitude to celebrities and others that maintain a helping hand in the community. The show also features events in which Queen Latifah gives cooking tips. In one episode she changes the theme of the show as she participates in a game against Will Smith. The show is determined to have viewers cheering with laughter and applauding with gratitude.
The celebrity and non celebrity interviews are fascinating, the cooking tips are phenominal and the musical performances shown close to the end of every show is unbelievable.
Weekdays at 2PM on Syndicated

2 Seasons,

17

Episodes

September 16, 2013

/

10

Cast:

Queen Latifah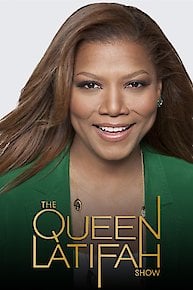 The Queen Latifah Show Full Episode Guide
Season
2
131 clips available
Episode

75

-

June 5, 2015

A look back at the show's most memorable moments

Episode

30

-

March 13, 2015

Lisa Kudrow, Bobby Brown, Daniela Ruah

Episode

29

-

February 6, 2015

Actress Alyssa Milano; the "Golden Sisters"; Shoshana Bean performs

Episode

28

-

February 5, 2015

Wendie Malick and Jane Leeves ("Hot in Cleveland"); actress Sherri Shepherd

Episode

27

-

February 4, 2015

Jennifer Hudson; Kellan Lutz ("Twilight"); Tim Snell; the Madden Brothers perform.

Episode

26

-

February 3, 2015

Simon Helberg ("The Big Bang Theory"); actress Elisabeth Röhm; magicians David and Leeman.

Episode

25

-

November 21, 2014

Jeffery Wright and Guillermo Diaz

Episode

24

-

November 7, 2014

Lisa Ling, Katherine Schwarzenegger, Gordon Ramsay

Episode

23

-

October 17, 2014

Actress and Mommy-To-Be Zoe Saldana!

Episode

22

-

October 16, 2014

A Salute to Comedy Legend Carl Reiner

Episode

21

-

October 15, 2014

Sports Legend Terry Bradshaw on the Controversial Headlines Surrounding Pro-Sports

Episode

20

-

October 10, 2014

Emmy Rossum, Keyshia Cole
Season
1
14 clips available
Episode

5

-

September 20, 2013

Jake Gyllenhaal, Lisa Kudrow, and Celebrity Chef Anne Thornton

Episode

4

-

September 19, 2013

Jamie Foxx, Elisabeth Shue, and Tom Higgenson

Episode

3

-

September 18, 2013

Sharon Stone and The Soul Children of Chicago

Episode

2

-

September 17, 2013

Will Smith, a Heart-Pounding Surprise, and a Special Performance

Episode

1

-

September 16, 2013

John Travolta, Willow Smith, Alicia Keys and life-changing surprise
If You Like The Queen Latifah Show, Then Try...
The Queen Latifah Show News
Bill Cosby Chickens Out of Queen Latifah Interview After Rape Allegations Resurface
The move is the first major professional repercussion for Cosby.