Wives and Daughters
Wives and Daughters, the made for television four part miniseries, is based on the novel by Elizabeth Gaskell. It follows the life and trials of Molly Gibson, the daughter of the town doctor. Pretty and unassuming, Molly attracts the attention of her father's apprentice, and is sent away to stay with the local squire and his family. While in residence, she forms a close attachment with Squire Hamley's wife, who looks upon her as a daughter, and befriends the younger son, Roger.
Meanwhile, Dr. Gibson remarries and brings with him a vain and slyly critical stepmother, and impetuous and flirtatious stepsister into their once tranquil and loving home. While rejoicing in the relationship with her vivacious stepsister, Cynthia, Molly despairs at the growing affection between Cynthia and Roger Hamley (whom Molly has fallen in love with). The romance soon appears to be one-sided, and on her mother's advice, Cynthia strings Roger along since his older brother is dying and Roger stands to be heir. Molly begins to despair that Roger will never realize how much she loves him.
With reputations hanging in the balance, love unrequited, and gossip threatening at every turn, will Molly ever find the love she deserves?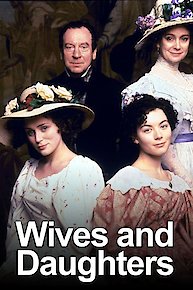 Wives and Daughters Full Episode Guide
Episode

4

-

Wives and Daughters Episode 4

While visiting rich relations in London, Cynthia meets a handsome man, Mr. Henderson. Ms. Browning is convinced that the young lady believed to be meeting with Mr. Preston at odd hours is Molly. After being caught in the midst of a passionate argument with Mr. Preston, a hysterical Cynthia confides in Molly. While trying to resolve Cynthia?s problems, Molly?s reputation is damaged, and a lighthearted Cynthia decides to break off her engagement with Roger. In light of his failing health, Osborne asks Molly for a favor. The Squire finally meets his daughter-in-law and grandson. Roger realizes his feelings for Molly, but circumstances at the Hamley Hall keep the two apart.

Episode

3

-

Wives and Daughters Episode 3

Episode

2

-

Wives and Daughters Episode 2

As she comforts Mrs. Hamley, who is upset about Osborne?s banishment from the house, Molly realizes the declining state of the frail woman?s health. Later, Molly finds herself comforting the entire grief-stricken family. Molly returns home to find that her new mother has made some changes to the household. Molly soon discovers the outwardly sweet woman is selfish and manipulative at heart, but she looks forward to the arrival of her new stepsister, Cynthia, who is studying abroad. A visit from a former acquaintance elicits strange reactions from both Cynthia and her mother. Roger encounters Cynthia at a local card party and is captivated by her. The reason for Osborne?s excessive spending and unexplained trips are revealed.

Episode

1

-

Wives and Daughters Episode 1

After a pupil confesses his love for Dr. Gibson?s daughter, seventeen year-old Molly is sent for an extended visit to Hamley Hall where she falls for Osborne, the charismatic eldest son of the Squire and Mrs. Hamley. The Hamley?s youngest son, Roger returns home with disturbing news about his brother Osborne. Molly immediately expects the worse when she learns of Mr. Gibson?s plans to wed Mrs. Kirkpatrick, a beautiful woman who briefly cared for an exhausted Molly after a grand garden party seven years ago in the summer of 1820.