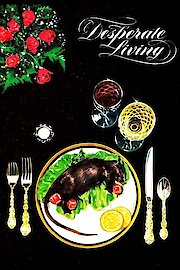 Watch Desperate Living
"It isn't very pretty…"
X
1977
1 hr 30 min
Desperate Living is a 1977 dark comedy film directed by the acclaimed filmmaker, John Waters. The movie follows a group of strangulated women, who are trying to escape the confines of their oppressive lives. The film is characteristic of Waters' body of work due to its bizarre and often grotesque visuals, its campy humor, and its emphasis on the unconventional and taboo. The movie stars Liz Renay, Mink Stole, and Susan Lowe, who all deliver memorable performances throughout the film. Set in a fictional town of Mortever in the US, the story begins with Peggy Gravel (played by Mink Stole), a middle-aged, hysterical housewife, who accidentally kills her husband in a fit of rage. Unsure of what to do next, she turns to her loyal maid, Grizelda (Jean Hill) for help. Together, they run away to Mortville, a rundown, crime-ridden city that is home to a cast of eccentric characters. Mortville is populated by outcasts, misfits, and social rejects, who are often shunned and persecuted by the mainstream society. Once in Mortville, Peggy and Grizelda come into contact with an array of characters, including the grotesque, overbearing Queen Carlotta (Edith Massey), and her army of drag-queen soldiers. The Queen is a cruel, power-hungry woman, who rules over Mortville with an iron fist. She despises anyone who does not conform to her idea of what is acceptable, and she is not afraid to punish those who cross her. Despite the strange and unusual characters that inhabit Mortville, Peggy and Grizelda quickly find a sense of belonging. As they navigate this new world, they encounter a range of obstacles, including blackmail, murder, and corruption. At the same time, they also discover deeper parts of themselves that they never knew existed. Throughout the film, the women explore their newfound freedom and challenge the norms that have kept them oppressed for so long. The movie is a masterpiece of surrealism, with outrageous and bizarre scenes that will shock and amuse. The film's biting satire and social commentary aim to highlight the absurdity and hypocrisy of modern society. Waters uses the characters and the setting of Mortville to explore issues of class, gender, and sexuality. He challenges the viewer to confront their own biases and prejudices and to question the systems that have oppressed so many. The performances in Desperate Living are unforgettable, with each actor embodying their character to perfection. Mink Stole is particularly impressive as Peggy, delivering a performance that is both comical and poignant. Susan Lowe plays Muffy St. Jacques, Peggy's daughter, who is also on the run from her past. Lowe's portrayal of a woman on the cusp of madness is both electrifying and chilling. Finally, Liz Renay, who plays the character of Mole McHenry, is a true standout in the film. Renay's natural charisma and magnetic presence make her a joy to watch on screen. The film's set design and costume are also noteworthy, capturing the essence of the 1970s with flair and style. From the tacky wallpaper to the outrageous costumes, every detail is infused with Waters' unique vision. The music in the film is also significant, with a sardonic soundtrack that perfectly complements the film's overall tone. In conclusion, Desperate Living is a dark, hilarious, and thought-provoking film that will leave a lasting impression on the viewer. It is a classic example of John Waters' signature style and is a must-watch for anyone interested in cult cinema. The film's biting commentary on societal norms and expectations is particularly relevant today, making the movie a timeless masterpiece that will continue to be celebrated for years to come.