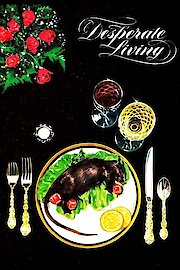 Watch Desperate Living
"It isn't very pretty…"
X
1977
1 hr 30 min
In this absurdist comedy, John Waters presents a world filled with sexual deviance and morally questionable characters. Peggy Gravel, a psychotic suburban housewife, and her maid Grizelda Brown, are arrested after murdering Peggy's husband while he slept. In lieu of going to jail, the two are exiled to Mortville, a dirty little village where deviants and criminals are sent to live out the rest of their lives. After a lesbian love affair, harboring a fugitive, and refusing to help in a conspiracy to overthrow the Queen of Mortville, the two manage to set themselves at odds with even the most disgraceful citizens of this town rife with immorality.