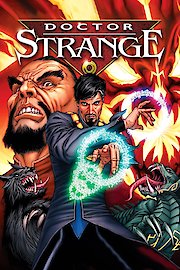 Watch Doctor Strange: The Sorcerer Supreme
"The Sorcerer Supreme."
PG-13
2007
1 hr 16 min
Doctor Strange: The Sorcerer Supreme is an animated superhero film from 2007 directed by Frank Paur and featuring the voice talents of Bryce Johnson, Paul Nakauchi, Kevin Michael Richardson and Michael Yama. The movie is based on the Marvel Comics character Doctor Strange, who was created by artist Steve Ditko and writer Stan Lee in 1963. Doctor Strange is a master of the mystic arts, a powerful sorcerer who protects Earth from supernatural threats. The story opens with Doctor Stephen Strange, a brilliant and arrogant surgeon, losing the use of his hands in a car accident. This tragedy leads him on a quest for a cure which takes him to the Far East, where he meets the Ancient One, a wise and powerful mystic who teaches him the ways of magic. The Ancient One reveals to Strange the existence of other dimensions and realities beyond our own, and the various threats that exist to humanity from these other realms. As Strange continues his training, he finds himself drawn into conflict with an evil sorcerer named Dormammu and his minion, Baron Mordo. Dormammu wishes to enter the Earthly dimension and dominate our world, which would cause untold destruction and suffering. Strange must use his newfound powers to stop Dormammu and save not only our world, but the entire universe. Throughout the film, Strange battles both physical and internal demons, coming to terms with his own flaws and limitations while also learning to harness his vast power. He is fiercely devoted to the protection of his world and is willing to risk his own life to save others. He is assisted by his loyal friends and allies, such as his assistant Wong, and Clea, a fellow sorceress who becomes his lover. Together, they face many obstacles and enemies, leading to a final showdown where Strange confronts Dormammu and finally defeats him. One of the strengths of Doctor Strange: The Sorcerer Supreme is its stunning visuals. The animation is rich and detailed, with vibrant colors and imaginative creature designs. The mystical realms that Strange and others visit are awe-inspiring and otherworldly. The film has a strong sense of atmosphere and style, transporting viewers to a magical realm full of wonder and danger. In addition to the visuals, the film features a strong voice cast who bring the characters to life with energy and personality. Bryce Johnson does a great job as Doctor Strange, imbuing him with both arrogance and vulnerability. Paul Nakauchi is excellent as the Ancient One, holding a gravitas and authority that makes him both commanding and endearing. Kevin Michael Richardson provides a menacing presence as the voice of Baron Mordo, and Michael Yama adds humor as Wong. Overall, Doctor Strange: The Sorcerer Supreme is an exciting and engaging animated adventure that will delight fans of the Marvel Comics character or those who enjoy superhero stories. It's a great entry point for those unfamiliar with the character or the larger Marvel Universe, as it's a standalone story that doesn't require any previous knowledge. The film combines stunning visuals, great voice acting, and a compelling narrative to create a memorable and enjoyable experience.