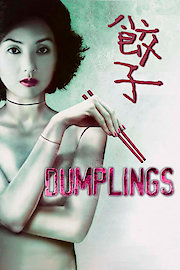 Watch Dumplings
"You eat… that you are…"
NR
2004
1 hr 31 min
"Dumplings" is a 2004 Hong Kong horror film directed by Fruit Chan that explores themes of aging and the pursuit of beauty. The film stars Wai-Ling Chan as Aunt Mei, an expert in Chinese cuisine who creates dumplings that have a unique rejuvenating effect on her clients. Pauline Lau plays Mrs. Li, a wealthy woman who seeks out Aunt Mei for her dumplings after learning of their miraculous effects. Ho Fung Chuk plays Mr. Li, Mrs. Li's husband, who becomes increasingly suspicious of his wife's strange behavior.
The movie opens with Mrs. Li receiving a haircut from a young hairstylist who suggests that she try eating dumplings made by Aunt Mei to maintain her youthful beauty. Intrigued, Mrs. Li arranges to meet Aunt Mei and is shocked when she learns that the secret ingredient in the dumplings is aborted fetuses. Despite her initial repulsion, Mrs. Li becomes hooked on the dumplings and continues to indulge in them in secret.
As Mrs. Li begins to reap the benefits of the dumplings, her husband Mr. Li becomes increasingly suspicious of her sudden transformation. He hires a private investigator to follow her and eventually discovers that she has been consuming dumplings made from aborted fetuses. Disgusted and horrified, Mr. Li confronts his wife, but she is unrepentant and insists on continuing to eat the dumplings.
Meanwhile, Aunt Mei's past is revealed in a series of flashback sequences that show her working as a prostitute and having an abortion. These experiences inspired her to start using aborted fetuses in her cooking in order to create dumplings that would help women remain beautiful and young forever.
Despite the dark subject matter, "Dumplings" is a visually stunning and artfully crafted film. The cinematography is beautiful, and the film's use of sound is particularly effective in creating a sense of unease and tension. The performances by the three leads are all excellent, with Wai-Ling Chan delivering a standout performance as Aunt Mei.
Overall, "Dumplings" is a haunting and thought-provoking film that raises uncomfortable questions about the lengths people will go to in order to maintain their youth and beauty. While the subject matter may be too disturbing for some viewers, those who are willing to confront the film's challenging themes will find it to be a rewarding and memorable viewing experience.
Dumplings is a 2004 horror movie with a runtime of 1 hour and 31 minutes. It has received mostly positive reviews from critics and viewers, who have given it an IMDb score of 6.7.