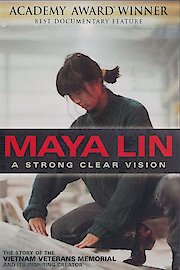 Watch Maya Lin: A Strong Clear Vision
"The story of The Vietnam Veterans Memorial and its inspiring creator."
1995
1 hr 45 min
This Academy Award-winning documentary chronicles the early career of the American artist who gained fame as the designer of the Vietnam Veterans Memorial in Washington, D.C. Maya Lin's sketch for black granite walls carved with the names of dead soldiers stirred up controversy due to the stark, unconventional look. Once those V-shaped walls were dedicated in 1982 though, the memorial became a powerful pilgrimage site. Lin also designed the Civil Rights Memorial in Montgomery, Ala. It was dedicated in 1989.