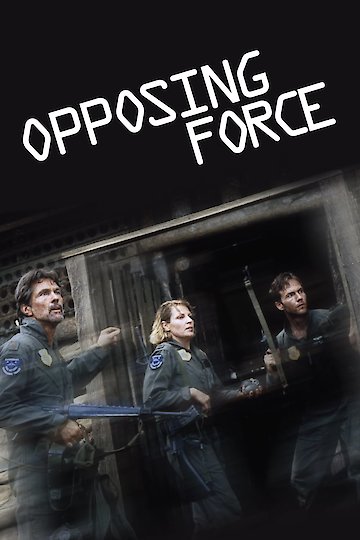 Watch Opposing Force
"Where civilization ends and survival begins."
R
1986
1 hr 40 min
Directed by Eric Karson and starring Anthony Zerbe, Richard Roundtree, Lisa Eichhorn, and Tom Skerritt are a group of men soldiers and one woman that area assigned the test of their lives when they have to go through a brutal boot camp. However things become different when the group find that this is not like any kind of boot camp they have been through. The mission was suppose to dramatize the group as if they were prisoner of wars, and this was suppose to be a training mission in preparation of how to conduct oneself in real battle. The group parachutes unto an island with the attempt of making it off the island. They have to make it to the safety zone before the enemy attacks them. The one woman amongst the group is lieutenant Lisa Echhorn. She is determined to prove to everyone that she is mentally and physically able to endure what is now known as Hell Camp. The group is pared off and Echhorn finds herself pared off with Tom Skerritt who was injured through the parachute jump. Echhorn accomplishes each grueling test that is placed before her only to discover that once she has completed one test each test becomes more of a survival for her life. The training mission has become a full blown out survival for their lives. Echhorn is placed into a working labor camp and is tortured, humiliated, and subjected to more pressures than she has every found herself by the hands of master sadists. She becomes the prey of these master sadists and they test to see how far she is willing to go before it all comes to an end. Echhorn is determined no matter how tough the situation becomes to escape from this situation. In all lieutenant Lisa Echhorn badly bruise but not broken prove that she could survive and escape The Hell Camp.