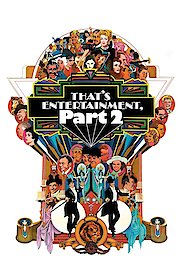 Watch That's Entertainment, Part II
G
1976
2 hr 6 min
67
That's Entertainment, Part II is a musical documentary film released in 1976 that celebrates the golden age of Hollywood musicals during the 1930s, '40s, and '50s. This movie, like its predecessor, That's Entertainment!, is a compilation of highlights from MGM's musicals, including rare behind-the-scenes footage, outtakes, and interviews with the industry's biggest stars.
The movie is hosted by three of the biggest stars to come out of the MGM musicals: Fred Astaire, Gene Kelly, and Judy Garland. They introduce each segment with their personal insights and anecdotes, providing a unique perspective into the making of these classic films.
The movie is divided into several segments, each showcasing a specific theme or type of musical number. For example, there is a segment dedicated to Busby Berkeley's intricate and visually stunning choreography, another one to MGM's famous ballet sequences, and yet another one to musical numbers that were cut from the final film.
One of the highlights of the movie is the segment dedicated to Gene Kelly. Kelly was not only a talented dancer but also a choreographer and director in his own right. In this segment, he talks about his creative process and the challenges he faced while making some of his most famous films, such as Singin' in the Rain and An American in Paris. He also shows some rare behind-the-scenes footage of his choreography in action.
Another memorable segment is the tribute to Judy Garland. Garland, who had a difficult and tumultuous career, was nevertheless one of the most beloved and talented performers of her time. The segment includes footage from some of her most famous movies, such as The Wizard of Oz and Meet Me in St. Louis, as well as interviews with her co-stars and admirers.
But the real star of the movie is the music. That's Entertainment, Part II features some of the most iconic and memorable songs from MGM's musicals, including "Singin' in the Rain," "The Trolley Song," "I Got Rhythm," and "That's Entertainment!" Each musical number is a testament to the creativity and talent of the composers, lyricists, choreographers, and performers who made these movies so special.
One of the things That's Entertainment, Part II does so well is to showcase the diversity and breadth of MGM's musical output. From upbeat and energetic dance numbers to emotional ballads, from Technicolor spectacles to intimate black-and-white dramas, MGM's musicals were never afraid to experiment and innovate. This movie captures that spirit of creativity and experimentation, showing how MGM's musicals influenced and inspired generations of filmmakers and performers.
In many ways, That's Entertainment, Part II is a love letter to a bygone era of Hollywood filmmaking. It celebrates the artistry and magic of the musical genre and the people who created it. In doing so, it reminds us of the power of music and dance to transport us to another time and place, to make us laugh, cry, and feel alive. Whether you're a diehard fan of the MGM musicals or a newcomer to the genre, That's Entertainment, Part II is an enchanting and entertaining tribute to the magic of the silver screen.
That's Entertainment, Part II is a 1976 documentary with a runtime of 2 hours and 6 minutes. It has received mostly positive reviews from critics and viewers, who have given it an IMDb score of 7.3 and a MetaScore of 67.