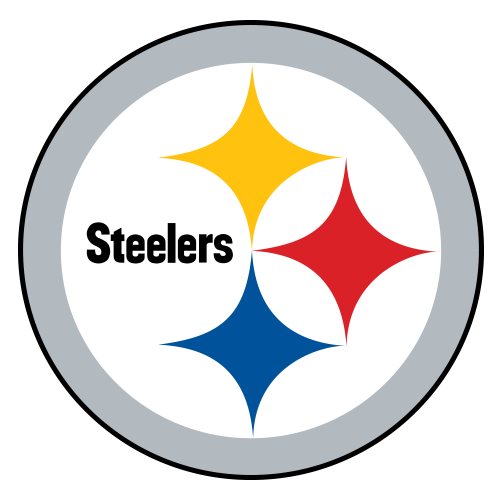 Watch Pittsburgh Steelers
Founded:Established 1933
Stadium Name:Heinz Field
With a rich proud history dating to 1933 when Art Rooney Sr. founded the franchise as the Pittsburgh Pirates, the Steelers (renamed in 1940 to reflect its steel making heritage) have become known as a proud football franchise known for its hard hitting smash mouth game of football that aligns itself strongly with the hardworking drive of the residents of Pittsburgh, Pennsylvania, known first for its steel mills and now for its transformation into a renaissance city of health care, education, and technology.
While the early years proved tough on the franchise with the team winning only twenty-two games in its first seven seasons and sporadic winning seasons in the forties, fifties, and sixties, Rooney kept plugging away. With his hiring of Charles Henry Noll in 1969, the game scores tilted more and more in the Steelers' direction, which has set in motion an era of success unprecedented in Steeler history that has led subsequently to numerous division titles, conference championships, and six Super Bowl titles, the most of any franchise.
Between stars, such as Byron White, Bobby Layne, Mean Joe Greene, Mel Blount, Hines Ward, Ben Rothelsberger, and Leveon Bell, and famous plays, including the 'Immaculate Reception' and Holmes' game winning catch in Super Bowl 47, stood a range of coaches like Jock Sutherland and Buddy Parker who helped give the franchise its first tastes of winning seasons and respectability to Chuck Noll, Bill Cowher, and Mike Tomlin of today who have each led the Steelers through grueling schedules to multiple Super Bowls, winning a collective six between them. This legacy of greatness, whether on the home turf of Forbes Field, Panther Stadium, Three Rivers, or now Heinz Field, has immortalized the team as well as its fan base, known for waving the black and gold Terrible Towel and of supporting the team at its away games in record numbers.
With the success that the Steelers have had over the years, buying season tickets to games at Heinz Field is near impossible, but individual game tickets can be found by accessing the Steelers' official website: www.steelers.com. In addition, fans can watch live games by subscribing to the NFL's Game Pass.
Thursday Night Football. Live.
Watch with Prime
ad