NFL Replay
NFL Replay is a sports talk show series. It airs on the station known as NFL network and provides viewers with lots of information. In the show, a host along with a number of former players sit down and discuss the latest games and news around the league. For those who are hardcore football fans, this is a show that will be quite appealing. Anyone who is looking to get a comprehensive look at the latest trends in the NFL will likely enjoy watching this show. The show began airing in the summer of 2012 and is therefore a new television series.
The format of the show is quite simple. During each show the host will introduce herself and begin discussing the top stories around the NFL. This will often include general news around the league along with the most notable injuries. After this brief introduction, viewers will then begin to get analysis of many of the upcoming games along with the previous week's games. They will also evaluate certain players, coaches and issues that some teams are facing at the time. As a result viewers will be able to get lots of detailed information about the league, the teams and the players within the show's airtime.
Anyone who is a big fan of the NFL will likely enjoy watching this show due to the comprehensive content. Viewers will get to find out lots of new information about the league and find out what the best matchups are. They will also have the opportunity to learn about things that are going on in the league such as signings, suspension rulings, and general announcements about upcoming events and rule changes. This show is therefore an excellent show to watch for anyone looking to get updates on the NFL on a regular basis. Whether you are a casual fan or a devoted fan of the NFL this show will provide viewers with a comprehensive and informative show every weekday. NFL Replay is one show that all fans will like to watch at any time.
3 Seasons,

86

Episodes

September 10, 2007

/

10

Cast:

Ben Roethlisberger

,

Mike Rock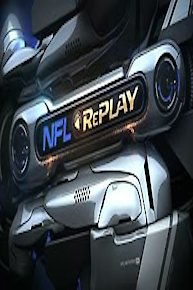 NFL Replay Full Episode Guide
Episode

1

-

2017 Week 1: New York Giants vs. Dall...

A condensed replay of the best game from Sunday with unique NFL Films camera angles and sound from players and coaches before, during, and after the game with exclusive on-field access.
Episode

18

-

Super Bowl 50: Carolina Panthers vs. ...

Super Bowl 50: Carolina Panthers vs. Denver Broncos