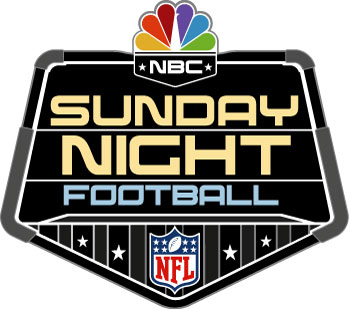 Watch Sunday Night Football
Time:
Sunday 8:00 PM et/pt on
NBC
Sunday Night Football is a weekly live sports series, a television broadcast of American football games that are in the National Football League. SNF airs during Prime Time on Sunday evenings, during the months of September through January. The Sunday night series consists of one game, played by two teams. During the football game, there are interviews of the players and coaches. There are also highlights of and reactions to football games that were played earlier in the day. The interviews, highlights, and reaction are through out the game done by a play abnnouncer, a color commentator, and a sidelines reporter. The Sunday Night Football crew consists of seven people.
Sunday Night Football started back in 1987 and has been in the hands of two different television station companies. The first sports series to ever be a number one Prime Time show is Sunday Night Football. During the 2011-2012 football season, there were 21.5 million viewers. According to Nielsen Ratings, during the 2011-2012 and the 2013-2014 seasons, Sunday Night Football was the highest rated and most watched TV program. Sunday Night Football has even received an Emmy Award for an 'Outstanding Sports Series', for four consecutive years.
Hulu. LIVE. NEED WE SAY MORE?
Watch with Hulu