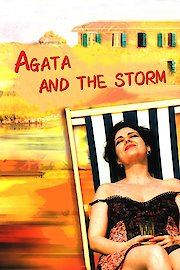 Watch Agata and the Storm
NR
2004
2 hr 5 min
Agata and the Storm is a heartwarming Italian film that explores the complexities of love, family, and destiny. The movie, released in 2004 and directed by Silvio Soldini, stars Licia Maglietta as Agata, Giuseppe Battiston as Romeo, and Emilio Solfrizzi as Mauro, with additional performances from Marina Massironi, Antonio Catania, and others.
The movie follows Agata, a successful author of romance novels who is struggling to come up with a new story. One day, while riding her bicycle through the streets of Milan, she collides with a handsome stranger named Romeo, who is also a writer. Despite their initial animosity towards each other, the two quickly fall into an intense romance that upends both of their lives.
At the same time, Agata is dealing with a number of other issues. Her father is dying in a hospital, and she is estranged from her siblings, who resent her for having left their small hometown to pursue her career. Agata's assistant, Mauro, is also in love with her, but she rebuffs his affections, causing tension between them.
As the movie progresses, Agata and Romeo must navigate the challenges of their own relationship, including jealousy and insecurity, as well as the issues plaguing Agata's family. Along the way, they encounter a cast of quirky characters, including a pregnant woman who runs a bicycle shop and a mysterious old man who may hold the key to Agata's future.
What makes Agata and the Storm so compelling is its exploration of the themes of destiny and self-discovery. Agata and Romeo are both struggling to find their place in the world and to understand what they truly want out of life. Agata's experiences with her family and the people she meets along the way challenge her preconceived notions about who she is and what she wants, while Romeo's struggles with his writing and his own feelings of inadequacy force him to confront his own limitations and to embrace his true passions.
The movie is also notable for its lush, atmospheric cinematography and its beautiful score, which perfectly captures the mood and emotions of the story. The scenes of Agata and Romeo riding their bicycles through the streets of Milan and along the beautiful coastline of Liguria are particularly memorable.
Overall, Agata and the Storm is a beautiful, moving film that is sure to resonate with anyone who has ever struggled to find their place in the world or to navigate the complexities of love and family. With its poignant characters, richly realized setting, and universal themes, it is a true masterpiece of Italian cinema.