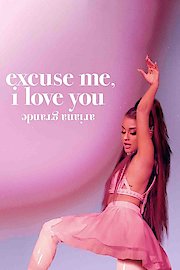 Watch Ariana Grande: Excuse Me, I Love You
TV-MA
2020
1 hr 37 min
Ariana Grande: Excuse Me, I Love You is a concert documentary film released in 2020, capturing the essence of Grande's Sweetener World Tour taking place from March to December 2019. The film features Ariana Grande's electrifying performances and behind-the-scenes footage during her tour with her team known as "The Baddest Band in the World" and her impressive crew of dancers.
The film was directed by Paul Dugdale, a renowned director who has worked on live events and concerts for Ed Sheeran, Adele, Coldplay, and Taylor Swift. The documentary begins with Grande's opening act where she sings her hit song "Raindrops" getting the crowd hyped up. Soon after, she takes the stage decked out in a pink ensemble with her signature ponytail, and for the next hour and half, she delivers nonstop entertainment.
Throughout the film, viewers get an exclusive look at the talented team behind Grande's music. Her dancers and backing singers help to anchor the show, providing a sense of unity among the performers on stage. They all come together to create an unforgettable performance that blends chart-topping hits such as "God Is A Woman," "No Tears Left To Cry," and "Break Up With Your Girlfriend, I'm Bored" with dazzling lights and breathtaking visuals. The film captures Grande's uncanny ability to captivate and command the crowd, leaving audiences in awe and admiration.
One of the highlights of the movie is the moment Grande shares heartfelt messages with the audience, expressing gratitude and acknowledging the love she receives from her fans. These moments become more personal as she opens up about her struggles with anxiety, and the devastating tragedy faced at her Manchester concert back in 2017. Grande takes a moment of silence during her concert for the victims of the terrorist attack, and it is an incredibly touching moment that shows her strength and bravery in the face of adversity. Her resilience and incredible talent are evident in the way she extends herself to her audience with her music, a shared bond of love, and the hope it can offer to those who may be going through tough times.
While the documentary is primarily centered around Grande's music, it also gives an intimate look at who Ariana Grande is off the stage. We see her goofing around and spending time with her friends and family during tour breaks. Notably, there is a touching scene where Grande's grandmother joins her on stage during "Thank U, Next" proving that family is still the most important thing to the young singer.
The cinematography of the film is visually stunning, blending close-up shots of Ariana's stunning vocals with sweeping panning shots of the adoring crowds. The cameras capture the impressive choreography, accentuating Grande's dramatic gestures, and accentuating the effect of her stage presence.
In summary, Ariana Grande: Excuse Me, I Love You is an epic representation of Ariana's powerful stage presence, breathtaking vocals, and larger-than-life artistry. It is both exhilarating and intimate, showcasing Grande's electrifying stage presence and her limitless love for her fans around the world. Directed by the world-renowned Paul Dugdale, the documentary is a must-see for every fan of Ariana Grande, and anyone looking for a captivating music experience. It provides an immersive opportunity to experience the iconic Sweetener World Tour and the creative genius of one of today's biggest pop icons.
Ariana Grande: Excuse Me, I Love You is a 2020 music movie with a runtime of 1 hour and 37 minutes. It has received moderate reviews from critics and viewers, who have given it an IMDb score of 6.4.