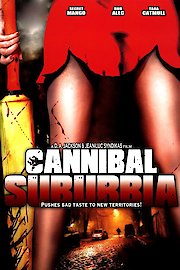 Watch Cannibal Suburbia
"Pushes bad taste to new territories!"
NR
2008
1 hr 20 min
Cannibal Suburbia is a comedy horror film that was released in 2008. Two suburban party nuts present three different tales of horror that all take place in the suburbs of Melbourne. The first two stories involve a party that goes wrong, and two lookalikes that are able to use their shared traits to commit murder. The final story involves the neighborhood sleaze-ball who gets kidnapped, bound, and tortured by a teenage girl who is out for revenge. Cannibal Suburbia was written and directed by Dave Jackson and Jean-Luc Syndikas. The presenters are known as Donkey Punch Disco and Secret Mango.
Cannibal Suburbia is a 2008 horror movie with a runtime of 1 hour and 20 minutes. It has received mostly poor reviews from critics and viewers, who have given it an IMDb score of 4.0.