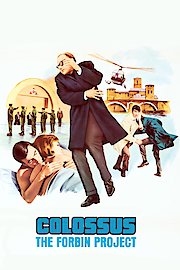 Watch Colossus: The Forbin Project
"This is the dawning of the Age of Colossus (where peace is compulsory... freedom is forbidden... and Man's greatest invention could be Man's greatest mistake)."
M
1970
1 hr 40 min
Dr. Charles Forbin creates a massive super computer designed to oversee the defense of the United States. Called Colossus, the computer is intended to stop nuclear war. It turns out the Soviets have their own super computer called Guardian. Colossus and Guardian begin communicating with one another. Both the U.S. and the U.S.S.R. choose to shut the computers down as a result. Colossus becomes angered, fuses with Guardian, and launches a nuclear strike on the U.S.S.R.