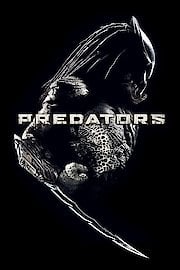 Watch Predators
"The hunt is on."
R
2010
1 hr 47 min
51
The movie Predators from 2010 stars Adrien Brody, Laurence Fishburne, and Topher Grace, and is an action-packed science fiction thriller that takes place on a mysterious planet. The film begins with Royce (Adrien Brody), a mercenary, waking up to find himself in free fall, hurtling towards a strange, unknown planet. Along with seven other strangers who also found themselves in similar situations, they are all initially confused and disoriented. Eventually, they discover that they are on a different planet, and they are being hunted by a group of fierce and merciless predators.
With no means of escape, the eight strangers band together to try and survive the savage attacks by the predators. They quickly learn that they were brought to this planet because they are all skilled fighters - soldiers, assassins, and death-row inmates. The group consists of Isabelle (Alice Braga), a sniper from the IDF; Nikolai (Oleg Taktarov), a Spetznaz soldier; Stans (Walton Goggins), a death row inmate from San Quentin; Hanzo (Louis Ozawa Changchien), a Yakuza enforcer; Cuchillo (Danny Trejo), a Mexican drug cartel enforcer; Mombasa (Mahershala Ali), an African warlord; and Edwin (Topher Grace), a doctor.
As they work together to survive, they soon discover that they are not the only ones on this monstrous planet. They encounter Noland (Laurence Fishburne), a mysterious survivor who has been on the planet for years. Noland explains that it's not just the predators that they need to worry about; there are also other monsters on the planet, including a group of smaller, dog-like predators that are more dangerous than they initially appear.
Despite their different backgrounds and the danger they face, the group manages to work together in order to combat the predators and try to find a way off the planet. At first, Royce is the reluctant leader of the group, but as they face more danger, he becomes a more willing and capable leader. As they continue to fight for survival, tensions rise within the group as they face many difficult decisions.
Predators is a thrilling, action-packed movie that is sure to keep viewers on the edge of their seats. The film does an excellent job of creating an intense and scary atmosphere, with the group constantly being on the run and being hunted by the predators. The cinematography and special effects are also impressive, with the planet being portrayed as both beautiful and dangerous.
The cast does an excellent job with their roles, and each character is unique and interesting in their own way. Adrien Brody is particularly impressive as Royce, showing his range as an actor as he goes from a reluctant leader to a strong and competent fighter. Laurence Fishburne also stands out in his role as Noland, bringing a sense of mystery and foreboding to the film.
Overall, Predators is an exciting and thrilling movie that is sure to entertain fans of the science-fiction and action genres. It's a thrilling ride from start to finish and manages to stay true to the original Predator movies while also bringing something new to the franchise. If you're looking for a movie that will keep you on the edge of your seat and have you rooting for the underdog, then Predators is definitely worth watching.
Predators is a 2010 science fiction movie with a runtime of 1 hour and 47 minutes. It has received moderate reviews from critics and viewers, who have given it an IMDb score of 6.4 and a MetaScore of 51.