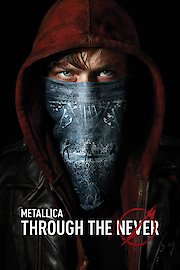 Watch Metallica: Through the Never
"Experience Metallica like never before"
R
2013
1 hr 33 min
61
As the heavy metal band Metallica is set to perform a concert, one of their roadies, a young man named Trip, is given a job by his supervisor. He must get a can of gas to a truck carrying friends of the band, which has run out of fuel. As Trip drives through the city, his car is hit by another car. He quickly recovers from the crash and stumbles away from the wreck, only to see that a massive riot has broken out. After escaping a confrontation between police and rioters, Trip is pursued by a masked man on a horse. He manages to get away, but runs into one dangerous situation after another. Ultimately, Trip encounters the masked horseman again and confronts him in a final battle. All during Trip's journey, Metallica is playing to a packed arena, unleashing classics like "Fuel" and "Enter Sandman" on a stage filled with pyrotechnics and lasers.