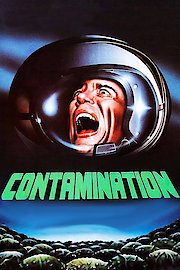 Watch Contamination
"You can feel them in your blood!"
R
1981
1 hr 35 min
There is no one on board of a ship that pulls into New York Harbor. Eggs that explode and spread a green acid like substance are found when the police investigate the cargo hold. An ex-astronaut offers to help the police find the source of these alien-like eggs. With the aid of a police detective and a government agent, the ex-astronaut tracks the eggs to a South American coffee plantation. They find the eggs are filled with a flesh eating acid and are being created by alien pod clones. There is a one-eyed Martian, which grew when a former astronaut brought a seed back from Mars, who is in control of whole operation.
Contamination is a 1981 adventure movie with a runtime of 1 hour and 35 minutes. It has received moderate reviews from critics and viewers, who have given it an IMDb score of 5.1.