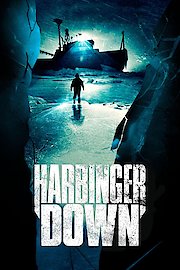 Watch Harbinger Down
"Terror is just beneath the surface"
In the 2015 science fiction horror film Harbinger Down, a group of graduate students on board the crabbing vessel Harbinger venture into the Bering Sea for a research expedition. The team, led by Sadie (Camille Balsamo), works to study the effects of global warming on marine life by collecting samples from the Arctic waters. However, their trip takes a dark turn when they discover a crashed Russian spacecraft buried beneath the sea. The team eagerly investigates the wreckage, hoping to find rare and valuable materials that could help further their research. However, they soon realize that their discovery is far more dangerous than they could have ever imagined. As the team begins to examine the spacecraft, strange and terrifying events begin to occur. One of the students, Ronelle, falls mysteriously ill and begins to mutate in horrifying ways. Another student, Big G (played by Winston James Francis), is attacked by a tentacled creature that had been trapped inside the wreckage. Soon, the team discovers that the creatures that had been trapped inside the spacecraft are not of this earth. They have been genetically modified by the Russians in an attempt to create a new kind of biological weapon. The creatures have since escaped and are now wreaking havoc on the Harbinger and its crew. As the team struggles to survive and find a way to fend off the alien creatures, the captain of the Harbinger, Graff (Lance Henriksen), must navigate the treacherous waters of the Bering Sea to find a way to save his crew and stop the creatures from spreading beyond the isolated research vessel. Overall, Harbinger Down is a thrilling and suspenseful horror film that combines elements of science fiction, action, and suspense. The film's talented cast, led by legendary actor Lance Henriksen, delivers convincing performances that keep the audience on the edge of their seats. The film also boasts impressive visual effects and practical creature designs that bring the alien creatures to life in a believable and terrifying way. Director Alec Gillis, who is known for his work on films such as Alien³ and Starship Troopers, brings his expertise in creature design and special effects to Harbinger Down, creating a truly immersive and frightening experience for the audience. Harbinger Down also explores themes of greed, betrayal, and the consequences of scientific experimentation. The film's central conflict revolves around the graduate students' desire to further their research and make a name for themselves at the expense of the safety of their crewmates. The film's use of the Bering Sea as a remote and dangerous setting adds a layer of isolation and vulnerability to the story, making for a truly harrowing experience. Overall, Harbinger Down is a must-see for fans of science fiction, horror, and creature features. The film offers a fresh take on the genre and delivers a thrilling and suspenseful experience that will leave audiences breathless.