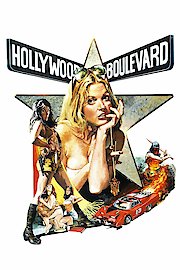 Watch Hollywood Boulevard
"The street where starlets are made!"
R
1976
1 hr 23 min
Hollywood Boulevard is a 1976 film that has been carefully crafted to best appeal to audiences who have an interest in the whole Hollywood lifestyle. The film features an innocent Midwestern girl who goes to Hollywood in hopes of becoming an actress. While she is there, she meets a whole slew of characters. Some of these eccentric personalities become friends, some become enemies, while others end up somewhere else on the scale entirely. This movie is a combination of everything that makes for a good intrigue movie. There are endearing characters, suspicious deaths, and romance. It is an excellent if fantastical look into Hollywood.