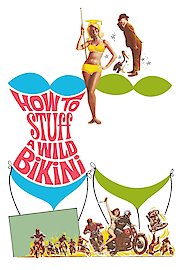 Watch How to Stuff a Wild Bikini
"It's a Beginner's Course in 'Boy-Girlsmanship'"
NR
1965
1 hr 30 min
Another in a slew of fun in the sun mid-1960s beach movies starring Frankie Avalon and Annette Funicello. This one involves Frankie thinking Annette has been untrue. Then a witch doctor and a sea beauty show up between dancing girls in bikinis and music acts playing themselves.