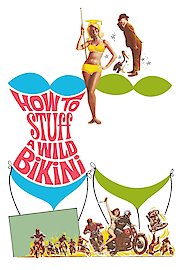 Watch How to Stuff a Wild Bikini
"It's a Beginner's Course in 'Boy-Girlsmanship'"
NR
1965
1 hr 30 min
How to Stuff a Wild Bikini is a 1965 American musical comedy film directed by William Asher and starring Annette Funicello, Dwayne Hickman, and Brian Donlevy. The film is a sequel to the previous Beach Party movies and revolves around Frankie (Dwayne Hickman), who is sent to the South Pacific with three other soldiers while his girlfriend Dee Dee (Annette Funicello) stays at home. Frankie has been told by his commanding officer, Bwana (Brian Donlevy), that he must remain faithful to Dee Dee while at war. However, Frankie has trouble resisting the advances of some of the island's female inhabitants. Meanwhile, back in the states, Dee Dee is also having trouble resisting the attention of a handsome business mogul named Ricky (Tommy Kirk).
As Frankie continues to struggle with temptation, Bwana comes up with a plan to keep him faithful. He enlists the help of a local witch doctor who gives Frankie a love potion that will make him think of Dee Dee and no one else. However, when the potion wears off and Frankie's eyes begin to wander again, Bwana enlists the help of a beautiful young woman named Cassandra (Beverly Adams) to distract Frankie.
The film features lively musical numbers, bizarre plot twists, and a bevy of attractive bikini-clad women. Annette Funicello shines in her role as Dee Dee, and her onscreen chemistry with Dwayne Hickman is charming and playful.
The film also features a number of guest appearances from well-known actors, including Mickey Rooney, Buster Keaton, and Boris Karloff. Additionally, Frankie Avalon, who had been a mainstay in the previous Beach Party films, makes a brief appearance in the film's finale.
While How to Stuff a Wild Bikini may not be a critically acclaimed masterpiece, it is a lighthearted and entertaining film that is sure to please fans of Annette Funicello and the Beach Party series. Its playful tone and catchy musical numbers make it a fun and enjoyable watch for those looking for a little escapism.
How to Stuff a Wild Bikini is a 1965 comedy with a runtime of 1 hour and 30 minutes. It has received mostly poor reviews from critics and viewers, who have given it an IMDb score of 4.7.