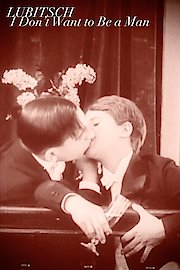 Watch I Don't Want To Be A Man
NR
1918
45 min
"I Don't Want to Be a Man" is a German silent film directed by Ernst Lubitsch in 1918, starring Ossi Oswalda, Curt Goetz, and Ferry Sikla. The film is a comedy of manners that explores the concept of gender roles in the early 20th century. The story follows a wealthy and privileged young woman named Ossi, who is tired of being forced to adhere to traditional gender roles. She wants to experience the same freedoms as men and believes that the only way to do so is to dress up as a man.
Ossi's plan seems to work at first. She gains access to clubs and bars that were previously inaccessible to her, and she even finds herself the object of desire of many women. However, as she delves deeper into the world of men, she realizes that it's not all that it's cracked up to be.
One of the most interesting aspects of the film is the way it explores gender roles. In the early 20th century, women were expected to be obedient and subservient to men. They were often denied education and the right to vote, and they were certainly not allowed to be sexually liberated. "I Don't Want to Be a Man" challenges these views by presenting a protagonist who is determined to break free from these constraints.
The film also explores the idea of sexuality and sexual identity. Ossi's decision to dress up as a man is not only about gaining access to male-dominated spaces but also about exploring her own sexuality. In one scene, she kisses a woman, which would have been scandalous at the time.
Despite its progressive themes, "I Don't Want to Be a Man" is also a very funny film. Ossi's antics as she tries to navigate the world of men are comedic gold, and the film's witty script and slapstick humor are sure to put a smile on any viewer's face.
The film's cast is also excellent. Ossi Oswalda is charming and charismatic as the lead, and she pulls off the dual roles of Ossi and her male alter ego with ease. Curt Goetz is also excellent as Ossi's stuffy guardian, and Ferry Sikla steals the show as a woman who falls for Ossi's male persona.
Overall, "I Don't Want to Be a Man" is a funny and thought-provoking film that challenges notions of gender and sexuality. While it may seem dated in some respects, its themes are still relevant today, making it a true classic of early cinema.