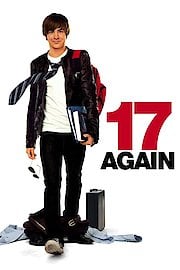 Watch 17 Again
"Who says you're only young once?"
PG-13
2009
1 hr 42 min
48
"17 Again" is the story of a 37 year old man that gets the chance to relive his youth as a way to make amends for some of his past decisions. The story begins in the year 1989 when High School student Mike O'Donnell finds out that his girlfriend Scarlett is pregnant with his child. This news comes at a most inopportune time, because of the High School championship basketball game taking place and leaving Mike to make a difficult choice. He decides to leave the game, forfeiting his chance at a College Scholarship to help his girlfriend with her baby.
20 years later in 2009, Mike finds that his life has pretty much stalled after his past decision not to finished College. On top of that the anger of being passed over for a promotion in favor of a younger co-worker leads him to an action that gets him fired. At the same time, Mike and Scarlett are having marital problems that lead to their separation pending a divorce and Mike moves out of the home he shared with Scarlett. His son Alex and daughter Maggie want nothing to do with him for their own personal reasons.
After Mike moves into the home of his wealthy friend Ned Gold he decides to return to his old High School to reminisce. Walking on the grounds shortly before it starts raining, Mike encounters a mysterious janitor. While driving back to Ned's home he drives off the road into a strange glowing whirlpool. Emerging from the river, Mike walks back to Ned's home to get warm. Grateful for being alive after driving into the river, Mike is unaware of some mysterious change.
Mike soon discovers he is 17 again, the purpose of some important life lesson that he must learn in order to change back into his adult self. Posing as Ned Gold's son, Mike discovers one of the problems between his children Alex and Maggie, that Maggie's boyfriend is bullying Alex. Later on Mike must learn one final lesson on selflessness in order to return to his adult self and reconcile with his wife Scarlett.
On the day of the divorce hearing Mike creates a plan to show Scarlett that he still cares, however he is still a 17 year old at the time. When Mike later reveals the truth to Scarlett at the High School basketball game, Scarlett runs out of the Gym. However, love does prevail. Mike hands off the basketball to his son and after returning to his former self Mike and Scarlett reconcile.
17 Again is a 2009 comedy with a runtime of 1 hour and 42 minutes. It has received mostly poor reviews from critics and viewers, who have given it an IMDb score of 6.4 and a MetaScore of 48.