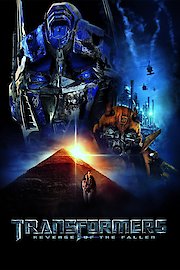 Watch Transformers: Revenge of the Fallen
"Revenge is coming."
PG-13
2009
2 hr 29 min
35
Eons ago the 13 Primes began a system of Energon harvesting with solar absorption machines known as the Sun Harvesters while abiding by the code that harvesters may never accumulate Energon from a sun sustaining life in a solar system. Megatronus Prime disregarded that code in the human year 17,000 B.C. when he set up a Sun Harvester on the planet Earth. Due to his transgression, the Council of Primes labeled him The Fallen, and ousted Megatronus from their circle. The Primes launched an offensive against Megatronus and a great battle ensued. The Primes were forced to sacrifice themselves to seal away the Matrix of Leadership, which is the key to the hidden Sun Harvester on Earth. Two years after the defeat of the Decepticon leader, Megatron, the Autobots, led by Optimus Prime, have allied their forces with the United States ARMY to create NEST, the Nonbiological Extraterrestrial Species Treaty. Headed by Major William Lennox (Josh Duhamel), NEST uses its combined military expertise with the Autobots alien technology to protect the Earth from evil the Decepticon menace. Meanwhile, Sam Witwicky (Shia LeBeouf) readies himself to attend college and prepares to leave his parents, girlfriend Mikaela Banes (Megan Fox), and Autobot protector Bumblebee behind. Sam soon begins to have hallucinatory visions of Cybertronian hieroglyphs which attracts the attention of his roommate Leo, an alien robot conspiracy theorist, and fellow classmate Alice who appears intrigued by Sam's strangeness. Sam soon finds himself again caught in the middle of war between the two factions of giant alien robots. The Decepticons race to revive their leader Megatron, who seeks to resurrect The Fallen, the originator of the Decepticons. The Fallen then gives the command to capture Witwicky and kill Optimus Prime, the last of his race and only one that is capable of destroying The Fallen. Full of pulse-pounding action, amazing sound production, and Earth shattering special effects, Transformers: Revenge of the Fallen is a cutting edge science fiction action movie that many can enjoy. Directed by Michael Bay and produced by Steven Spielberg, this Oscar nominated film was rated PG-13 for scenes of intense animated violence, adult language, some sexual material, and mild drug references.