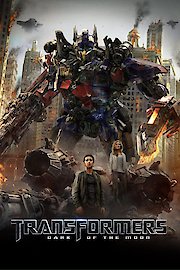 Watch Transformers: Dark of the Moon
"The invasion we always feared. An enemy we never expected."
PG-13
2011
2 hr 34 min
42
The third installment of the Transformers live action movie franchise, Transformers: Dark of the Moon, finishes off the heavy metal trilogy of good versus evil. With the autobots still waging their endless war on the decepticons, a new factor has come into play. Namely the alien technology that humanity found on the moon during the Apollo 11 mission decades ago. The autobots remain steadfastly allied with the human race, but the decepticons intend to try and steal this technology to remake their home planet of Cybertron. Who will be the first, or the last, to control the technology that was found on the dark side of the moon? This film, produced by Stephen Spielberg and directed by Michael Bay, has many of the hallmarks of the previous two films. The action and effects are all camera-shakingly big and heavy, while the teams of heroes and villains don't change too much, even with the 3 years of in-movie time between films 2 and 3. The plot twists take this story on more technological roller coasters and introduce a whole new host of deus ex machina that, while it fits with the previous two films, wasn't all that refreshing to the population at large. The Transformers films represent something that happens often when there's a translation from one medium (comic books, toys and an animated television show) to the mainstream movie box office. Essentially a change in style and the translation of the characters. But when there are decades of canon content that has been shaped by a fan base, and you have to find a way to put all of that into a movie, often times you need to pick and choose what makes it in and what doesn't. All of that was even harder with Transformers since they're gigantic sentient robot aliens. The film trilogy, and Dark of the Moon in particular, had to deal with the fact that the cast members people came to see were CGI creations. It's been a constant ball and chain that the Transformers have to interact with humans, and the actual main characters have to be human with their own stories. They are who the audience sees the action through. But with every world-ending threat the human cast feels more and more like an impediment and less and less like a window for the audience to watch these colossal outsiders fight their endless battle.