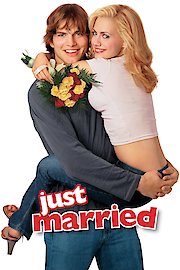 Watch Just Married
"Welcome to the honeymoon from hell."
PG-13
2003
1 hr 35 min
28
Just Married is a romantic comedy from 2003 starring Ashton Kutcher, Brittany Murphy, and Christian Kane. The movie follows the lives of Tom (Kutcher) and Sarah (Murphy), a newly married couple who embark on a chaotic and disastrous honeymoon in Europe. The movie begins with Tom and Sarah deciding to elope to Las Vegas after their families disapprove of their relationship. They have a small, intimate wedding ceremony and immediately set off on their honeymoon to Europe. The couple is deeply in love and excited about their new lives together, but things begin to go wrong as soon as they arrive in Venice.
Their first night is spent in a dingy hotel room, complete with a leaky ceiling and moldy walls. The next day, their rental car breaks down, forcing them to hitchhike to their next destination. This sets the tone for the entire trip, as bad luck seems to follow the couple no matter where they go. From missed trains to stolen luggage, Tom and Sarah begin to question whether they should have gotten married at all.
Adding to the tension is Peter (Kane), Sarah's ex-boyfriend who happens to be staying in the same cities as them. Peter is a successful businessman and seems to have it all together, which makes Tom feel insecure about his own life and career goals. As the trip progresses, Peter attempts to win Sarah back, leading to even more problems for the newlyweds.
Despite all the obstacles, Tom and Sarah try to make the best of their honeymoon and enjoy their time together. They visit several beautiful cities in Europe, including Paris and Amsterdam, and experience new cultures and cuisines. Along the way, they learn to communicate with each other and overcome their differences, making their love for each other stronger in the process.
Just Married is a classic romantic comedy, filled with hilarious mishaps and relatable relationship problems. Ashton Kutcher and Brittany Murphy have a great on-screen chemistry and their characters are both likable and flawed. Christian Kane is also excellent as the charming but conniving ex-boyfriend, adding an extra layer of drama to the story.
One of the standout features of the movie is its stunning European locations. The breathtaking views of Venice, Paris, and Amsterdam are sure to make viewers want to pack their bags and go on their own European adventure. The movie also has a great soundtrack, featuring catchy and upbeat songs from popular artists such as Avril Lavigne and Blink-182.
Overall, Just Married is a fun and charming movie that will make viewers laugh and root for the lovable couple. It's a great date night movie and perfect for anyone who has ever had a disastrous vacation or a bumpy start to a new relationship.
Just Married is a 2003 comedy with a runtime of 1 hour and 35 minutes. It has received mostly poor reviews from critics and viewers, who have given it an IMDb score of 5.5 and a MetaScore of 28.