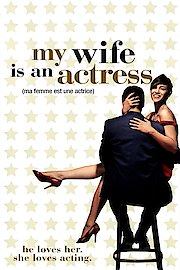 Watch Ma Femme Est Une Actrice
R
2001
1 hr 35 min
57
Ma Femme Est Une Actrice is a French romantic comedy-drama film released in 2001 which explores the intricacies of modern-day relationships. It stars Charlotte Gainsbourg, Yvan Attal, and Terence Stamp in the lead roles. The film is set in Paris and revolves around the lives of a married couple - Yvan (Yvan Attal) and Charlotte (Charlotte Gainsbourg). Yvan is a sports journalist, and his wife Charlotte is a popular actress. The primary conflict of the movie arises when Yvan becomes increasingly jealous of Charlotte's professional life, and the boundaries between reel and real life start to blur.
Yvan's insecurities are compounded by the fact that many of Charlotte's on-screen love scenes are with her co-star John (Terence Stamp) - who is not only her husband's client but also a good friend. Yvan's paranoia spirals out of control, and he becomes convinced that Charlotte is in love with John. This leads to a series of arguments and confrontations between the couple, with Yvan grappling to come to terms with the realities of his wife's career and their marriage.
As the movie progresses, Yvan's behavior becomes increasingly erratic and irrational, leading to several darkly comedic moments. The character of John serves as a contrasting foil to Yvan - he embodies the cool, detached, and nonchalant attitude of a seasoned actor with a carefree attitude towards life's ups and downs.
Ma Femme Est Une Actrice is a character-driven film that explores the dynamics of relationships in the entertainment industry, but it also delves into larger themes such as the nature of desire, jealousy, and perception. The film does an excellent job of portraying the complexities of modern-day relationships in a realistic and relatable manner.
The performances of the three leads - Gainsbourg, Attal, and Stamp - are commendable. Charlotte Gainsbourg delivers a nuanced and multi-dimensional portrayal of a woman who is trying to balance her personal and professional life. Yvan Attal's portrayal of Yvan is terrific, capturing the unique combination of insecurity, naivety, and stubbornness that his character embodies. Terence Stamp brings a magnetic presence to the film, with his suave and sophisticated performance as the veteran actor John.
The film's direction is taut and focused, with Yvan Attal successfully balancing humor and drama. The pacing of the movie is excellent, with a steady buildup of tension throughout the runtime that culminates in a satisfying final act.
Overall, Ma Femme Est Une Actrice is a charming and entertaining film that offers a unique take on the complexities of modern-day relationships. The performances are excellent, the direction is solid, and the writing is witty and thought-provoking. It is a must-watch for anyone interested in French cinema or romantic comedies that don't fall into cliches.