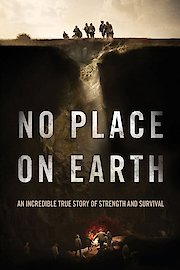 Watch No Place on Earth
"An Incredible True Story of Strength and Survival"
PG-13
2013
1 hr 23 min
58
The genre of the movie is under drama, historical and documentary films. The movie was released in theaters on April 5, 2013 with the rating of PG-13 for mild violence from war scenes. The movie and documentary is based on a true story of five Jewish families that found a safe haven in caves in the Ukraine. The director of the film was Janet Tobias. The documentary running time is eighty-one minutes. The story came about when a renowned cave explorer Chris Nicola was mapping caves in the western part of the Ukraine. He discovered objects for example buttons from a piece of clothing proving that someone had been living there. The documentary used some of original people from an era that has a place in history. These individuals were Jews hiding from the German Army during WW II, when so many went through the Holocaust. The actress Katalin L?b?n plays the matriarch Esther Stermer, who leads her family into the caves to escape Germany's genocide of the Jews. The actor Péter Bal?zs Kiss plays the role of Saul Stermer and actress Fruzina Pelik?n plays Sonia Dodyk. Chris Nicola plays in the documentary himself along many of the original people that actually were there during WW II. The families that went through the ordeal of living in the caves tell their story about courage and survival. The documentary shows how these families lived in caves for over a year in a half or eighteen months without ever seeing the sun. They not only survived the German and Russian warfare above them but lived to see their extending family. The documentary tells a story of people that lived underground for the longest and survived in history. The documentary has interviews from these individuals throughout the short film.