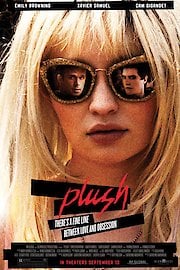 Watch Plush
"There's a fine line between love and obsession."
R
2013
1 hr 39 min
In Plush, the viewer is taken on a wild ride through the gritty and seamy world of Los Angeles' music scene. Emily Browning stars as Hayley, a successful and adored rock star who is struggling to cope with the recent loss of her brother and bandmate, due to his drug addiction. Her husband and fellow band member, Jack, portrayed by Cam Gigandet, is the only one who truly understands her pain and stands by her side through it all.
Hayley attempts to move on and continue performing despite her emotional turmoil, but she soon finds herself in a precarious situation when a new band member, Enzo (played by Xavier Samuel), joins the group. Enzo is charismatic, talented, and quickly becomes a close friend to Hayley...and then something more.
As their relationship becomes increasingly intense, Hayley finds herself spiraling into a dangerous world of sex, drugs, and obsession. As she tries to navigate her complicated and risky affair with Enzo, she must also try to hold her band together and keep their music alive, even as her own sanity begins to slip away.
As the tension between Hayley and Enzo mounts, the viewer is kept on the edge of their seat, wondering what will happen next. Emily Browning gives an electrifying performance as Hayley, expertly portraying her character's emotional turmoil, her passion for music, and her attempts to cope with tragedy.
Meanwhile, Xavier Samuel brings a dangerous and seductive energy to the role of Enzo, channeling the raw sexuality and hedonism of his character with skill and intensity. Cam Gigandet also delivers a strong performance as Jack, Hayley's stalwart husband and band member, as he struggles to keep the band together and save his wife from ruin.
The cinematography is also stunning, capturing the dark and gritty essence of the Los Angeles music scene with a brooding and atmospheric edge. Director Catherine Hardwicke, known for her work on the iconic Twilight series, brings her signature blend of teenage angst and Gothic romance to this complex and thrilling film.
Overall, Plush is a wild and intense ride, full of passion, obsession, and danger. Emily Browning, Xavier Samuel, and Cam Gigandet deliver strong performances, while the moody and atmospheric cinematography adds another layer of tension to the story. Fans of dark and brooding thrillers will not want to miss this electrifying film.
Plush is a 2013 thriller with a runtime of 1 hour and 39 minutes. It has received moderate reviews from critics and viewers, who have given it an IMDb score of 5.2.