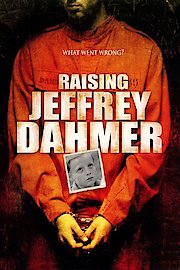 Watch Raising Jeffrey Dahmer
"Would you still love your son even if he grew up to be Jeffrey Dahmer?"
R
2005
1 hr 40 min
Raising Jeffrey Dahmer is based upon the true story of the infamous mass murder, Jeffrey Dahmer. Jeffrey Dahmer was a serial killer, murdering 17 men and boys, involving rape, necrophilia and cannibalism. In this film it takes a focus on his family, mainly his father and the events leading up to his arrest and trial. The focus of the movie is not entirely on Jeffrey Dahmer and the crimes itself but takes a more personal aspect by intertwining his relationship with his father, Lionel, and his stepmother, Shari. It takes an intense focus on his father and how he has dealt with the crimes and arrest of his son. By this intimate take, the audience is able to further understand the man behind the cannibalistic crimes through personal experiences of the childhood Dahmer, to tendencies that may have foreshadowed the crimes. The audience is allowed to look through the eyes of Lionel Dahmer to furthermore gain insight into one of the most famous crimes committed. The films use of flashbacks from Lionel creates a vivid picture of whether there were clues or instances in which Lionel himself questions. It depicts Lionel struggling with the guilt and burden of his son's crimes by constantly wondering if there was a way to prevent these crimes or have seen them indicated in his childhood behavior. It elaborates on the any warning signs that Lionel now claims to have seen. The film deeply explores the relationship in which Lionel and Jeffrey had, as well as putting some focus on his relationship with his stepmother and his grandmother, who he lived with for a point in time. His entire family is completely shocked by the nature of Jeffrey's crimes and struggles with the reality of accepting these acts from a loved one, in which they were not remotely aware of or suspected until his arrest in 1991. It also deals with the aftermath of having a relationship with a serial killer, in which the family was forced to endure upon his arrest. Lionel reminisces on the childhood of his son and his behavior as the murders began to occur on a regular basis. This film biographical take on his family offers a different insight into the life of Jeffrey Dahmer.