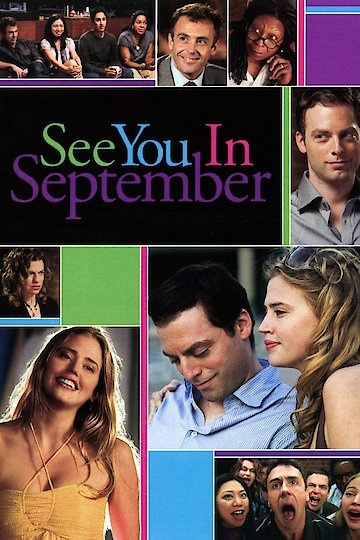 Watch See You in September
"Fear of Commitment meet Fear of Abandonment..."
NR
2009
1 hr 30 min
See You in September is a heartfelt and whimsical romantic comedy from 2010. The movie follows the life of a successful and independent New York psychologist, Lindsay (played by Estella Warren) who finds herself suddenly and unceremoniously dumped by her long-term boyfriend just before their romantic summer vacation. Feeling lost and heartbroken, she decides to take the trip anyway, hoping to find some solace in the scenic beauty of the countryside. However, when she arrives at her vacation home, she realizes that she has made a mix-up in her booking and is now in a house-share situation with a group of strangers. Forced to make the best of the situation, Lindsay gets to know her new roommates, who are all dealing with their own heartbreak and life struggles. The group includes the charming and quirky professor, JP (played by Justin Kirk), who is recovering from a break-up with his long-term partner, and the sarcastic and sharp-tongued Dora (played by Liza Lapira), who is coping with the loss of her father. The unlikely trio of Lindsay, JP, and Dora form a bond as they share their stories, struggles, and secrets. They soon discover, as the summer progresses, that they have much to learn from each other about love, relationships, and the importance of moving forward with their lives. Throughout the movie, the lush scenery of upstate New York provides a breathtaking backdrop for the characters' journey. The countryside, with its rolling hills, tranquil lakes, and quaint towns, is a world apart from the bustle and noise of the city where Lindsay and JP normally reside. The serenity of their country surroundings serves as a metaphor for their own emotional healing, as each character finds a sense of peace and renewal by connecting with nature. Beyond the stunning cinematography, the heart of See You in September lies in its exploration of the complicated nature of human relationships. Lindsay, JP, and Dora each bring their own unique perspective to the table, but all of them are struggling to find their place in the world after a major emotional upheaval. One of the most interesting aspects of the film is the way it challenges the traditional, heteronormative romantic comedy formula. Lindsay and JP share a deep, platonic connection that is far more meaningful than any fleeting romance. Meanwhile, Dora's journey towards healing is centered on her own self-discovery, rather than finding a new partner. The film is a refreshing take on the genre, demonstrating that there is much more to life than finding love. Despite its heavy themes, See You in September is ultimately a lighthearted and joyful film. The witty banter between the characters is charming, and their antics – from impromptu dance parties to spontaneous midnight swims – are endearing. The sense of camaraderie that develops between Lindsay, JP, and Dora is infectious, making it hard not to root for them as they navigate their way through life's ups and downs. In the end, See You in September is a delightful and poignant film that celebrates the healing power of friendship, the beauty of nature, and the resilience of the human spirit. It is a must-watch for anyone who has ever experienced a difficult break-up or struggled to find their place in the world. Heart-warming and hilarious, it is a film that will leave you feeling inspired, hopeful, and deeply satisfied.