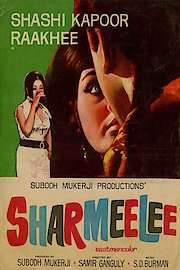 Watch Sharmeelee
Sharmeelee is a romantic thriller from 1971 directed by Samir Ganguly and produced by Subodh Mukherjee. The movie stars the legendary actor Shashi Kapoor, the beautiful actress Rakhee Gulzar and Nasir Hussain in pivotal roles. The film's soundtrack was composed by the legendary Sachin Dev Burman and features some unforgettable melodies.
The story of Sharmeelee revolves around Kanchan (Rakhee Gulzar), a young woman who suffers from a split personality disorder. Her husband, Captain Ajit (Shashi Kapoor), tries his best to help her by taking her to various doctors, but nothing seems to work. Kanchan has two personalities, one being a shy and timid girl named Sharmeelee, and the other being a bold and confident girl named Jyoti.
Ajit loves Kanchan very much and hopes to cure her condition. He takes her to a remote hill station where he plans to stay with her until she is cured. During their stay, Ajit discovers that Kanchan's father, Ratanlal (Nazir Hussain), is involved in a conspiracy to cheat Kanchan out of her inheritance. Kanchan's stepbrother, Shashi (Prem Chopra), and his wife, Jhumki (Bindu), are also involved in the scheme.
As the story progresses, Ajit gets close to both Sharmeelee and Jyoti and tries to understand Kanchan's condition. However, things take a turn for the worse when Kanchan's life is threatened, and Ajit is accused of trying to kill her. Ajit must now use all his skills to protect Kanchan and uncover the truth behind the conspiracy, which involves a shocking revelation.
Sharmeelee is a well-crafted movie, which explores the theme of split personality disorder with sensitivity and care. The movie's direction is tight, and the performances of the cast are impeccable. Shashi Kapoor is dynamic in his role as the supportive and loving husband, while Rakhee Gulzar delivers a tour de force performance in her portrayal of Kanchan's alter egos, Sharmeelee and Jyoti. Nasir Hussain is also great in his role as Kanchan's father, who is torn between his greed and his love for his daughter.
The film's music is also worth mentioning, with memorable songs like 'Khilte Hain Gul Yahaan', 'Megha Chhaye Aadhi Raat', and 'Aaj Madhosh Hua Jaye Re' being soulful and melodious.
Overall, Sharmeelee is a must-watch for fans of Indian cinema. It explores complex themes with nuance and sensitivity while delivering an engaging and thrilling story. The film's performances, music, and direction all come together to create a truly memorable movie experience.