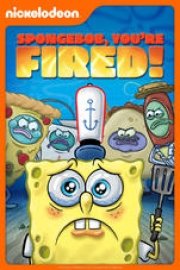 Watch SpongeBob SquarePants: You're Fired!
SpongeBob SquarePants: You're Fired! is a 2014 animated movie based on the popular Nickelodeon TV series, SpongeBob SquarePants. The movie is directed by Mark Caballero and Seamus Walsh, and produced by Paul Tibbitt. The plot of the movie revolves around SpongeBob, the main character who works as a fry cook at the Krusty Krab, a fast-food restaurant in Bikini Bottom. SpongeBob is extremely enthusiastic about his job and takes pride in making the perfect Krabby Patty, the signature dish of the restaurant. However, things take a turn for the worse when Mr. Krabs, the owner of the Krusty Krab, decides to cut costs by firing SpongeBob and replacing him with an automated cooking machine.
Devastated by this turn of events, SpongeBob tries to find a new job but faces several rejections due to his lack of experience in other fields. His best friend, Patrick, tries to cheer him up but SpongeBob feels useless without his job and falls into a depression. Meanwhile, the new machine, named the Krusty Krab 2, proves to be a big hit with customers and Mr. Krabs starts making huge profits.
Desperate to get his job back, SpongeBob tries to prove to Mr. Krabs that he is still valuable to the restaurant. He even helps the Krusty Krab 2 improve its sales by coming up with new and innovative ideas but Mr. Krabs remains stubborn and refuses to rehire him. However, when the machine goes haywire and starts producing dangerous Krabby Patties, Mr. Krabs realizes that he needs SpongeBob's expertise to fix the problem.
SpongeBob and his friends team up to stop the malfunctioning machine and save the day. In the end, Mr. Krabs realizes the value of human employees and rehires SpongeBob. The Krusty Krab 2 is decommissioned and SpongeBob goes back to his old job, much to the delight of his friends and coworkers.
The movie is a fun-filled adventure that combines humor and heartwarming moments. It explores the theme of technology replacing traditional jobs and the importance of human skills in the workplace. The characters are lovable and quirky, and the voice acting is top-notch. The animation is colorful and vibrant, capturing the spirit of the TV series that has captivated audiences for over two decades.
Overall, SpongeBob SquarePants: You're Fired! is a must-watch movie for fans of the TV series and anyone who loves animated comedies. It's a delightful treat that is sure to leave you smiling and uplifted.
SpongeBob SquarePants: You're Fired! is a 2014 animated movie with a runtime of 3 hours and 6 minutes.