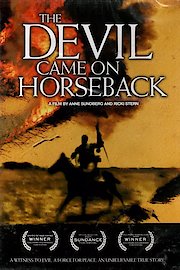 Watch The Devil Came on Horseback
"A witness to evil. A force for peace. An unbelievable true story."
2007
1 hr 25 min
78
The Devil Came on Horseback is a documentary film from 2007 that stars Nicholas Kristof and Brian Steidle. The movie follows former Marine Captain Brian Steidle as he travels to Sudan to serve as an unarmed military observer for the African Union during the Darfur conflict. The film, which is based on Steidle's memoir of the same name, chronicles his experiences while he served in Sudan from 2004 to 2005. Through interviews with Steidle, his family, and other experts, as well as footage and photographs that Steidle took during his time in Sudan, the movie paints a picture of the atrocities that were committed against civilians in Darfur.
Steidle's job was to monitor the ceasefire agreement between the Sudanese government and the rebel groups in Darfur. However, what he witnessed in the region was far from peace. He saw villages burned, women raped, and people killed by the Sudanese military and Arab militias known as the Janjaweed. Steidle took pictures of the atrocities, which he later shared with the international community in an effort to raise awareness about the crisis.
In the movie, Steidle describes feeling helpless and frustrated as he watched the violence unfold. He also speaks about the emotional toll that witnessing such atrocities had on him. His story is intertwined with interviews from other experts, including journalists and human rights activists, who also shed light on the crisis in Darfur.
Throughout the film, there is a sense of urgency to Steidle's mission. He is driven to share the truth about the situation in Darfur with as many people as possible. The movie also highlights the role that the international community played, or failed to play, in responding to the crisis. Steidle and others criticize the United Nations' slow response and lack of action to stop the violence.
The title of the movie, The Devil Came on Horseback, is a reference to the Janjaweed militia who rode on horseback as they carried out their campaigns of violence. The title also speaks to the idea that evil can come in unexpected forms.
Overall, The Devil Came on Horseback is a powerful and moving documentary that sheds light on a crisis that was largely ignored by the international community at the time. Steidle's personal story adds a human element to the film, and his determination to speak out against the violence is inspiring. The movie is a call to action for viewers to consider the role they can play in preventing such atrocities in the future.
The Devil Came on Horseback is a 2007 documentary with a runtime of 1 hour and 25 minutes. It has received mostly positive reviews from critics and viewers, who have given it an IMDb score of 7.7 and a MetaScore of 78.