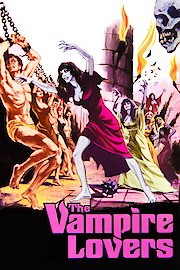 Watch The Vampire Lovers
"An erotic nightmare of tormented lusts that throb in headless, undead bodies!"
R
1970
1 hr 31 min
63
The beautiful vampire Carmilla (Ingrid Pitt) prowls through the night feeding on the innocent victims who fall for her charms. Appearing at the von Spielsdorf household, Carmilla acts innocent at first, then begins to prey on the female members of the household. Upon the death of her victim, Carmilla slips away into the night. Arriving at the Morton household, Carmilla sets her deadly sights on Emma (Madeline Smith), the comely and innocent daughter of the lord of the manor. While Carmilla slowly seduces Emma, other local women begin to turn up dead and drained of blood. As the townsfolk begin to suspect who or what is causing the reign of death in their midst, the bodies begin to pile up even faster. Based on the 19th century vampire novel Carmilla by Sheridan Le Fanu, The Vampire Lovers is another entry in the gothic vampire film cycle made famous by Britain's Hammer Films. Also starring Hammer regular Peter Cushing as the revenge-seeking vampire hunter General von Spielsdorf, The Vampire Lovers added a new layer of eroticism to all the blood letting onscreen. The film is loaded with plenty of nudity, strong lesbian elements and bloody vampire decapitations. Perhaps a bit tame by today's standards, the film still maintains its R rating. Made on a relatively small budget, The Vampire Lovers is directed by veteran director Roy Ward Baker from a screenplay by Tudor Gates. The film does a good job of creating a gothic and creepy atmosphere as the participants engage in a bloody game of cat and mouse. As a counterpoint to modern vampire films such as Twilight, The Vampire Lovers pulls no punches in depicting the vampire as a monster in the classic horror movie sense.