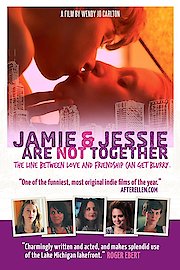 Watch To.Get.Her
"Got It Bad for the Wrong Girl?"
NR
2011
1 hr 26 min
To.Get.Her is a 2011 independent film directed by Erica Dunton. The movie's plot revolves around a group of four female high school students who decide to make a film together in order to win a video contest. However, their project turns into a personal journey of self-discovery and friendship as they confront their own fears, secrets, and desires.
The main character of the movie is Liv, played by Jax Jackson, the shy and insecure member of the group who struggles with her own sexuality and her feelings for one of her friends. She becomes the subject of the group's film, which explores her relationship with her crush and her journey towards self-acceptance.
Meanwhile, the group's leader, Liz, played by Jessica London-Shields, is a popular and confident girl who seems to have it all, but struggles with her own issues. Her relationship with her mother is strained due to her family's financial problems, and she worries about her future after high school. She also has a secret crush on Liv, which complicates their friendship.
The other two members of the group are Ruby, played by Audrey Grace Marshall, a rebellious and self-destructive girl who uses drugs and alcohol to cope with her problems, and Saira, played by Fawzia Mirza, a Muslim girl who faces discrimination and prejudice from her classmates because of her religion.
As they work on their film, the girls learn to trust and support each other, and confront their own fears and insecurities. Liv struggles with her feelings for her friend, and worries about how she will be perceived by others if she comes out as bisexual. Liz is forced to confront her own privilege and realizes that not everyone has the same opportunities as her. Ruby opens up about her troubled past and starts to make better choices. And Saira finds the courage to stand up for herself and her beliefs.
To.Get.Her is a powerful and emotional movie that explores themes of identity, friendship, and acceptance. The film's characters are complex and relatable, and their struggles are portrayed with authenticity and sensitivity. The movie also addresses important issues such as homophobia, racism, and substance abuse, without being preachy or heavy-handed.
The movie's cinematography is stunning, with beautiful shots of the girls' hometown and their surroundings. The film's soundtrack is also excellent, with a mix of indie and alternative music that perfectly captures the film's tone and mood.
Overall, To.Get.Her is a must-see movie for anyone who loves coming-of-age stories and LGBTQ+ cinema. The film will make you laugh, cry, and reflect on the importance of friendship and self-acceptance. It is a testament to the power of independent filmmaking and the importance of diverse storytelling in the entertainment industry.