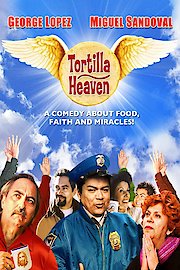 Watch Tortilla Heaven
"You can't keep a miracle secret"
PG-13
2007
1 hr 34 min
22
A comedy set in New Mexico, the movie Tortilla Heaven centers around Isidor and his restaurant, Tortilla Heaven. It can very well be argued that Isidor whips up the best Mexican food in the world, but unfortunately for him, his profits aren't very large thanks to being situated in a small town where the population is only 73 people. Isidor and his family, on a Sunday while in mass, pray for a miracle. It seems that their prayers are answered when one day, thereafter, the face of Jesus Christ appears on one of his scrumptious tortillas.