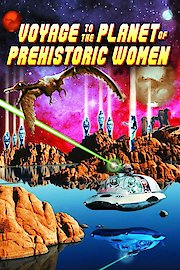 Watch Voyage to the Planet of Prehistoric Women
NR
1966
1 hr 18 min
Voyage to the Planet of Prehistoric Women is a science fiction film released in 1968, directed by Peter Bogdanovich under the pseudonym Derek Thomas. The film stars Mamie Van Doren, Mary Marr, and Paige Lee and features a group of astronauts who land on an unknown planet inhabited by prehistoric creatures and women. The film begins with a team of astronauts, led by Captain Chapman (played by Eric Fleming), on a mission to explore an uncharted planet. As they descend to explore the planet's surface, their spacecraft is damaged, forcing them to make an emergency landing. The crew quickly discovers that the planet is inhabited by prehistoric creatures, including giant lizards and pterodactyls. As they explore the planet, they are also greeted by a group of beautiful, bikini-clad women who have also made this strange planet their home.
The group of women, led by Moana (played by Mamie Van Doren), are a mysterious and alluring group who have developed their own unique society on this strange planet. They welcome the astronauts with open arms, but it soon becomes clear that the women have their own agenda. The astronauts struggle to survive on this harsh and dangerous planet while also navigating the complex relationships with the women, who seem to be the rulers of the planet.
Throughout the film, there are stunning visuals of the prehistoric creatures, which add to the overall uniqueness of the movie. The film features a mix of stock footage from earlier movies and newly filmed footage, providing a mix of established special effects and innovative elements.
The movie also features a unique score, composed by Marlin Skiles, that incorporates a mix of electronic and orchestral music. The soundtrack adds to the overall futuristic and scientific themes embodied throughout the movie.
The acting in the film is standard for the 1960s, with the male actors portraying the stoic and assertive astronaut persona, while the female cast plays the seductive and alluring roles of the prehistoric women. Mamie Van Doren is particularly captivating in her role as Moana, the leader of the prehistoric women. Her charisma and screen presence elevate her role to one of the most memorable characters in the movie.
Overall, Voyage to the Planet of Prehistoric Women is an interesting and unique take on the science fiction genre. It combines elements of adventure, romance, and futuristic themes with the allure of prehistoric worlds and women. While the plot and execution may be a bit dated, it is a fascinating window into the world of 1960s science fiction cinema.
Voyage to the Planet of Prehistoric Women is a 1966 adventure movie with a runtime of 1 hour and 18 minutes. It has received mostly poor reviews from critics and viewers, who have given it an IMDb score of 2.9.