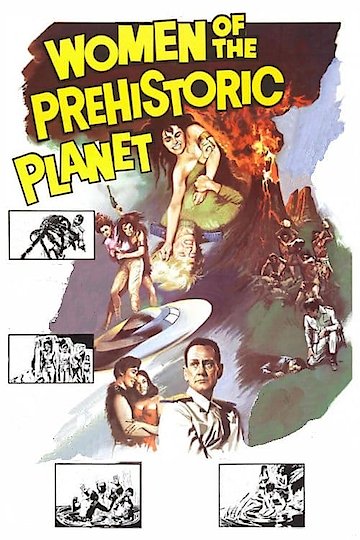 Watch Women of the Prehistoric Planet
"It's the battle of the sexes as savage planet women attack female space invaders!"
TV-14
1966
1 hr 30 min
Women of the Prehistoric Planet is a 1966 science fiction film directed by Arthur C. Pierce. The movie is set in the future, with a group of astronauts on a space mission to investigate a new planet that has recently been discovered. When they arrive, however, they quickly realize that the planet is not what they initially expected. The storyline of the movie revolves around two groups of beings: the first being a group of astronauts, led by Commander Scott (played by Wendell Corey) and his two companions, Dr. Farrell (played by Keith Larsen) and Lt. Turner (played by John Agar). The second group of beings are the inhabitants of the planet they have landed on, a tribe of prehistoric people. The astronauts soon realize that they are not alone on the planet and that they must coexist with the inhabitants of the planet. They become friends with two members of the tribe - Astra (played by Irene Tsu) and Kaeel (played by Paul Gilbert). While trying to establish communication with the prehistoric people, the astronauts soon learn that there is an evil presence on the planet, a giant monster called the "Gargon" that threatens the tribe's existence. The astronauts, with the help of the members of the tribe, come up with a plan to defeat the creature and save the tribe from extinction. The movie is a classic science fiction adventure which combines action, romance, and suspense in a unique way. The acting is superb, with the actors bringing their roles to life with conviction and energy. The special effects are also impressive, considering the time the movie was made. One of the most notable things about the movie is the portrayal of the prehistoric people. While they are depicted as primitive, they are also portrayed as intelligent and resourceful - especially the two main characters, Astra and Kaeel. This was a refreshing change from many other science fiction films of the time, which often showed prehistoric people as savage and primitive. Another interesting aspect of the movie is the exploration of the concept of time travel. While this is not the main focus of the film, it is touched upon briefly and adds an extra layer of complexity to the storyline. Overall, Women of the Prehistoric Planet is a fun and engaging science fiction movie that is definitely worth watching. With its unique premise, engaging characters, and impressive special effects, it is a classic of its genre and a must-see for fans of science fiction adventure films.