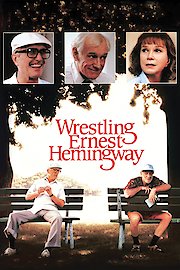 Watch Wrestling Ernest Hemingway
"...and other lies your friends let you get away with."
PG-13
1993
2 hr 3 min
Wrestling Ernest Hemingway is a heartwarming drama film which was released in 1993. This film tells the story of two aging men, Frank and Walter, who form an unlikely friendship in a small town in Florida. Robert Duvall plays Frank, a retired Cuban barber who spends his days reminiscing about the past and pining for his long lost love. Richard Harris, on the other hand, takes on the role of Walter, an Irishman who is also retired and spends his days alone, drowning in whiskey and his own self-pity. Frank and Walter's paths cross one day when Walter stumbles into Frank's barbershop looking for a shave. Although Walter is initially dismissive of Frank's attempts to befriend him, the two men soon find that they have a lot in common. They both have sons who have moved away and live far from them, they both are lonely and they both have a fascination with the late writer Ernest Hemingway. While Frank reveres the man, Walter is more critical and claims to have known the writer. These two unlikely friends spend their days sitting in a park, drinking coffee and sharing stories from their past. They find comfort in each other's company and soon become something of a local attraction in the town. Eventually, they hatch a plan to surprise their sons by showing up unannounced, but their journey doesn't quite go as planned. The film is not just about the friendship between Frank and Walter, but also about their individual struggles with aging and loneliness. Frank longs for his lost love, but he is afraid to reach out to her after so many years. Walter is haunted by his past mistakes and the alcoholism that has taken over his life. The two men are able to provide each other with support and encouragement, something they desperately need. The film is beautifully shot, with scenes of the Florida landscape and the ocean that add to the melancholic atmosphere. The performances from Duvall and Harris are absolutely outstanding. They both bring a depth and authenticity to their characters that makes their friendship feel genuine and real. Shirley MacLaine also stars in the film as a woman named Helen who works in the same building as Frank's barbershop. She is a lonely widow who strikes up a romance with Frank, and their scenes together are touching and sweet. Overall, Wrestling Ernest Hemingway is a powerful and moving film that explores the themes of aging, loss, and friendship. It is a reminder that even in old age, there is still beauty in life and that it is never too late to make a new friend.